~Wrapping Up 2015: Bookish Shops I Love~
I love bookish items, to the extreme. And while I don't necessarily have a lot of bookish items, these are shops that I've been stalking for a while now and am going to binge buy from very soon. They're so cute and have the best items!

*Disclaimer: None of these shops asked me to make this list or be put on it. This is just my honest-to-god fangirling over here*
This shop has the cutest bookmarks! I follow them on Instagram and it's hilarious and aweing how many bookmarks they have created. This is what they create, for so many different books and series:
Cool, right?
They have the cutest character bookmarks for everything from Throne of Glass to Harry Potter!
See?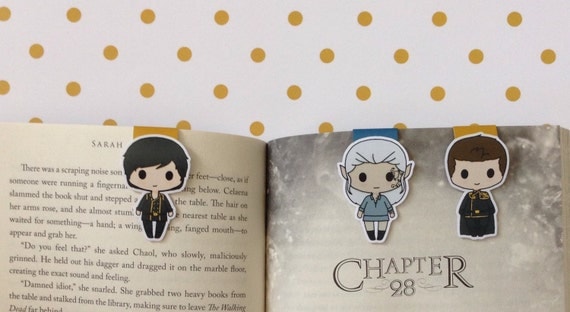 This shop sells ALL the bookish items I could ever want. I'm getting floor-to-ceiling bookshelves with a window seat and instead of boring throw pillows, all my pillows will be from this shop right here. They sell EVERYTHING from mugs to duvet covers! Seriously, just check them out and buy stuff.
This is all about the candles. Candles that smell like books, candles themed after books, it's great. Even though I don't burn candles in my room, I do have a wax melter and they have wax tarts. Hollah! I'm looking forward to getting one of these soon. I've been following them on Insta for months and am super excited to finally place an order soon!
This one's for obvious reasons. I can't even put all the stuff they have but they have something for everyone. My most recent purchase was a laptop sleeve in this design:
It's gorgeous. They also have a beautiful Throne of Glass themed studio pouch I've got my eye on...hmm...
~
Thanks for reading. I hope I inspired you and/or introduced you to new awesome bookish shops!
xoxo
Lauren