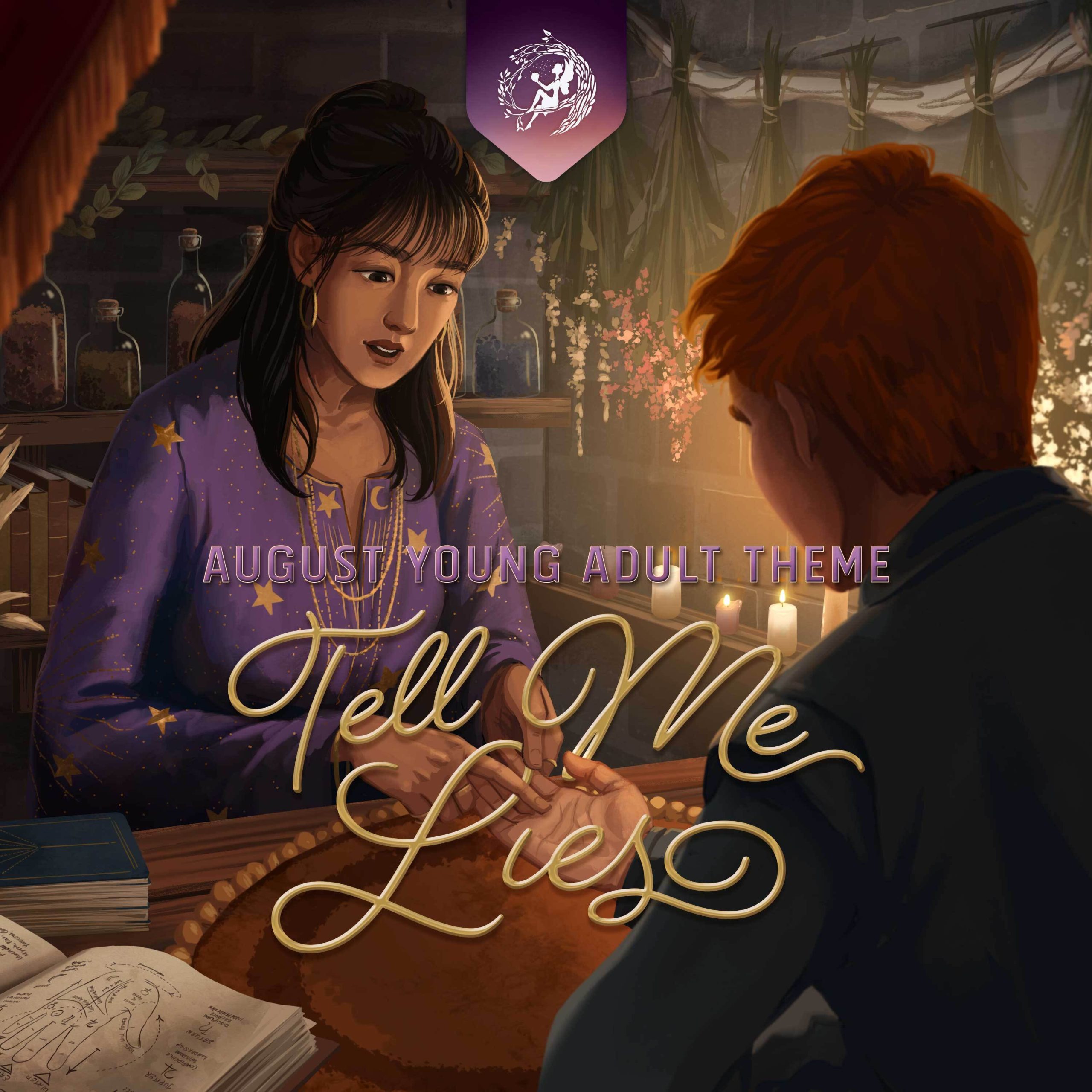 Another month, another amazing Fairyloot box. This is my eighth box since I resubscribed and I absolutely adored it, yet again. This month's theme was "Tell Me Lies" and in the reveal we were told it would also include an item Fairyloot had never included before. I absolutely loved every item and the book they chose so let's just not wait any longer and dive into the unboxing!
The first item included was a bookshelf-patterned tote bag designed by @chattynora. This is absolutely stunning. I love useful items in book boxes and this is one that I can see myself actually using, especially for bookish events. The books on the shelves on this tote are actually all books Fairyloot have featured in their boxes or done special editions for in the past, which I thought was pretty cute.
The next item was a Romeo & Juliet inspired list pad designed by @catarinabookdesigns. The quote they included is also very reminiscent of the R&J retelling, These Violent Delights, that I love. I am a big fan of stationary and I am 100% going to be filling this with meaningless lists and to-dos. The only thing I wish is that there was a sticky bit so that I could stick it to places when I wanted to use it.
Then is the item that they've never included before: a celestial-themed travel jewelry box designed by @jezhawk. For starters, this is absolutely stunning. It's also fandom-neutral and feels quite sturdy and well put together for a book box item. I will definitely be using this, either for bookish jewelry or for my growing collection of pins.
The next item was an enamel pin inspired by Gilded by Marissa Meyer and designed by @no0nedesigns. This is a stunning little pin and the design is quite intricate for how small it is. I am very much looking forward to finally reading this book soon, though I'm probably going to wait at least until the sequel is out to dive into it. Marissa Meyer hasn't steered me wrong yet, though.
The last proper items are the next in the collectible mythology bookmark series designed by @gracezhuart. This month we have Anubis from Egyptian mythology and Apate from Greek mythology. I'm a big fan of this collectible series and I also love that they're including mythologies from around the world (as I originally thought it would only be Greek as that's what their first two were). I find bookmarks to also be a very fun item as a reader can never have enough bookmarks.
This month's tarot cards are from Only A Monster by Vanessa Len. We have Joan as Justice and Nick and Aaron as Wheel of Fortune. I've not yet read this but it's on my list closer to the sequel's release. I also am just really enjoying the tarot card series (mainly because the artwork is completely gorgeous). One of my favorite things is that they are doing tarot cards after the books they include in their boxes.
The book this month was Violet Made of Thorns by Gina Chen. This edition features an exclusive cover, ombre sprayed edges, artwork printed on the hardcover and endpages designed by @_saintdri, and comes with a signed bookplate. I'm absolutely in love with the cover changes as it created this beautiful sunset imagery that goes well with the sprayed edges. I am very much looking forward to reading this as well.
Overall, this was another stunning box from Fairyloot. I know not every month will be a winner but Fairyloot have been smashing for the majority of this year. I will use everything in this box and I think the quality and design are beautiful. I am incredibly excited for September as it's been revealed there is going to be a blanket and I think their blankets are some of the comfiest things ever.
August was also the last month that included five items. Due to inflation and the rising costs of everything, Fairyloot announced that from September onwards there will only be four items. This is so they can keep the quality high and not have to raise the cost of the box. Honestly, I'm happy with that decision and I look forward to the boxes nonetheless (especially as it feels like the tarot cards and various paper items that come with the book work very well as bonus items).