Hello all! Today I am popping in from a very busy week to do one of my favorite yearly tags: the Mid-Year Book Freakout Tag! This is one of my favorite tags because I get to look back on the first half of the year and reflect while also getting excited for the rest of the year! So far I have read 50 books of my goal of 100, so I'm actually a little ahead on my challenge! Fair warning: I am terrible at picking just one book for a category, so be prepared for gushing about many books. Let's jump in!
---
I've read a lot of really great books so far that have made it onto my favorites list, but the best two books that I've read this year (so far) are
House of Earth and Blood by Sarah J. Maas
and
The Empire of Gold by S.A. Chakraborty
. I don't know if I could choose right now which one I liked more because they were both so different and amazing in their own ways.
House of Earth and Blood
is the first book in Sarah J. Maas's new adult fantasy series. It's set in a modern world mixed with fantasy and it was so good! I got spoiled for one part of the book so I do think I would have enjoyed it more if I hadn't been spoiled for that, but I enjoyed every other part of the book and am really looking forward to rereading it (hopefully by the end of this year) and annotating! You can find my review
here
.
The Empire of Gold
is the final book in the
Daevabad
trilogy by S.A. Chakraborty. This is a historical fantasy set in the Middle East. I absolutely loved the first two books in the trilogy when I read them last year and was so happy that I was able to secure a trade for an ARC of the final book since it doesn't actually come out for another week. It was a great finale and one that I really want to reread since I already know there's a lot that I don't remember. You can find my review
here
.
---
2. Best Sequel You've Read

I've actually read quite a few first books in series or standalones this year but in terms of the best sequel I read, that honor would have to go to The Empire of Gold by S.A. Chakraborty. I do apologize because I loved this book so much so it will end up on multiple categories of this list, but it was an amazing sequel. Honorable mentions go to Ember Queen by Laura Sebastian and This Shattered World by Amie Kaufman & Meagan Spooner.


---
3. New Release You Haven't Read but Want To
There are quite a few of these, though I have also been lucky in getting to read a lot of new releases for blog tours and publishers this year so far. The two that are on the top of my list that are either out or I have ARCs for are
The Court of Miracles by Kester Grant
and
Girl, Serpent, Thorn by Melissa Bashardoust.
The Court of Miracles
was pitched to me as
Six of Crows
meets
Les Mis
, which sounded absolutely amazing to me. Plus, the cover is absolutely stunning and I've been hearing a lot of positive feedback from other readers! You can find out more on
Goodreads
.
I also want to read
Girl, Serpent, Thorn
. I honestly don't remember much about this except that I was totally hooked when I read the synopsis. This is another book with an absolutely stunning cover and I can't wait to have a copy on my shelves. You can find out more on
Goodreads
.
---
4. Biggest Disappointment
I haven't really had too many disappointing reads this year which is always a good thing. I've had some that have been just good and not great like I hoped, but the winner of biggest disappointment is definitely
Crave by Tracy Wolff
.
As a big lover of
Twilight
, I was very much looking forward to discovering a new YA novel centered around vampires. I was a bit skeptical going in since the marketing surrounding this book definitely seemed to play up the similarities to
Twilight
, even being pitched to me as, "Is this the new
Twilight
?!" I really think the similar cover, pitch comparing it to
Twilight
, and the similarities in characters really did this book a disservice. I absolutely hated it and continue to not like it even more the more I look back on it. On the other hand, it was really fun writing
this review
because I had so much to discuss.
---
I would say the
Ash Princess trilogy by Laura Sebastian
. I read a digital ARC of
Ash Princess
back when it first came out and I enjoyed it but I didn't love it. I never got around to reading the sequel when it came out, but when there was a blog tour being organized for the final book this year I was intrigued. I figured this was the best chance I had to read these books and find out what happens next.
I will say I enjoyed
Ash Princess
even more the second time around. And then the books just kept getting better! I am so happy that I decided to join the tour for these because I was surprised at just how much I ended up loving them. I'm also excited because I now have copies that I can add to my bookshelf rather than just the digital versions.
Book Reviews:
Ash Princess
,
Lady Smoke
, &
Ember Queen
---

I have so many! Nic Stone, Zoraida Córdova, Adiba Jaigirdar, Adalyn Grace...the list goes on and on! I've read a lot of books this year from new-to-me authors and I'm very excited to see what new ones I read from next and what other books from these authors I still get to read!


---
7. Newest Fictional Crush

I think I'm an outlier in that I don't really have fictional crushes? I have characters that I love and think are great in their respective relationships, but as I've grown older I've stopped having crushes on characters. I think, for me, a personality has to completely match well with mine and I just don't think that even some of my favorite characters would match well with me. I'm also in a very happy relationship and no fictional character could ever compare to him. That being said, I do ship different characters with each other and I do love characters, I just don't crush on them anymore.


---
8. Newest Favorite Character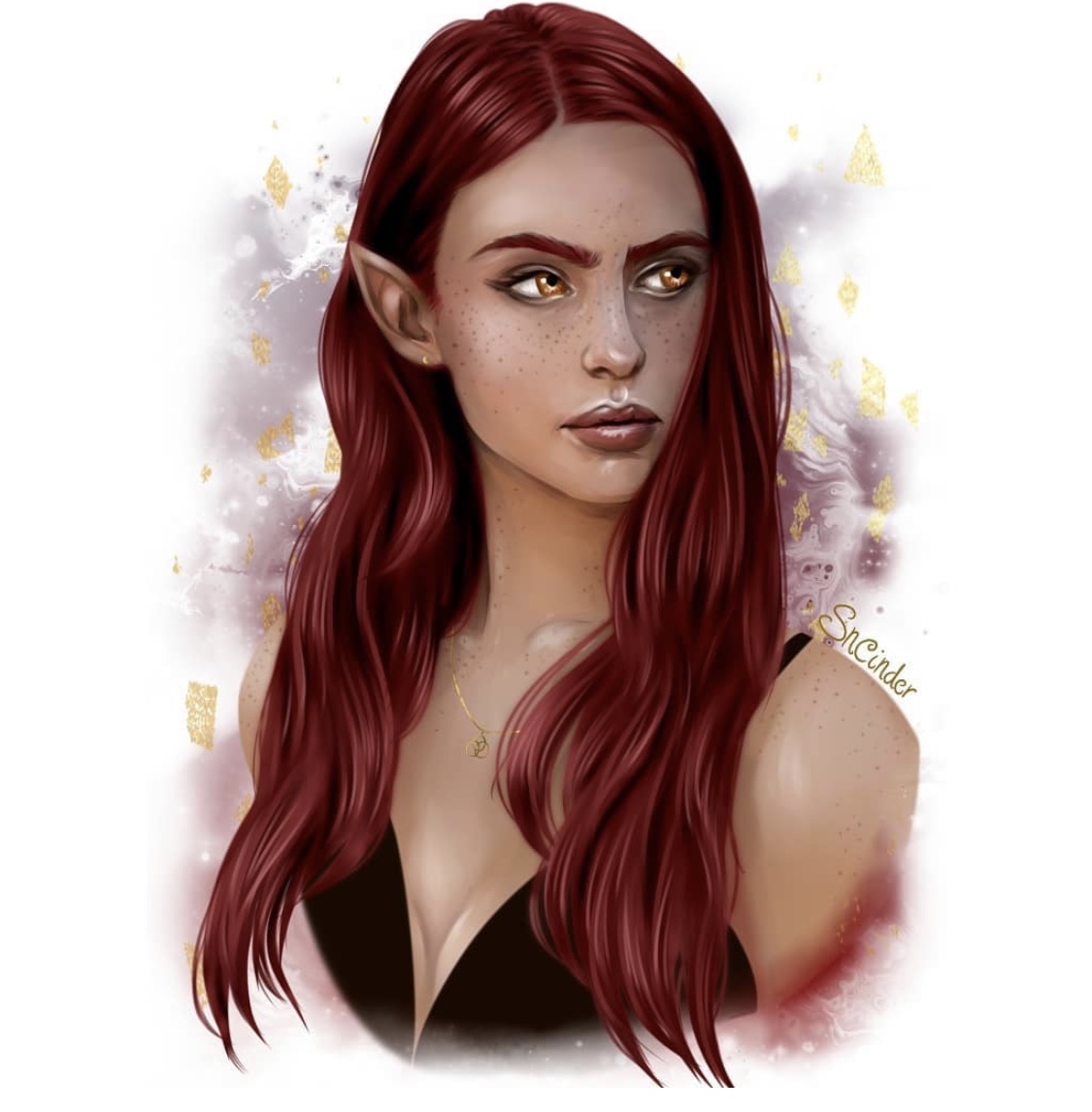 While I don't crush on fictional characters anymore, I do still love a lot of characters! Some new ones that have really stuck out to me this year have been
Bryce from House of Earth and Blood
by Sarah J. Maas (pictured right, from sncinderart),
Renata from Incendiary
by Zoraida Córdova, and
Thia from The Storm Crow
by Kalyn Josephson, among others. All of these are badass women who aren't perfect and make mistakes but have genuinely good hearts.
---
9. Book that Made You Cry
I'll admit, I cry in books a lot. I tear up in most books I read when an emotional scene rolls around. That being said, I do have some where there was either a steady stream of tears or full on sobbing.
House of Earth and Blood by Sarah J. Maas
made me sob. It had me crying in the first 100 pages and then I was sobbing throughout most of the final 100 pages as well. There were just so many emotions rolling through me and I was so scared for so many characters throughout the book. And, of course, I tend to cry in most SJM books anyway.
The next one was
Incendiary by Zoraida Córdova
. There were a lot of really emotional scenes, so there were definitely times where tears were just dripping down my face. I'm so excited to see where the next book goes, though, and if the author will get me to cry with that one as well. You can find my review
here
.
The last one I'm going to mention is
The Empire of Gold by S.A. Chakraborty
. I didn't sob but there was a solid stream of tears for the last 150-200 pages of this book. I was so terrified for this book because I didn't know what would happen to all my favorite characters and was worried they'd all die. No spoilers but I did cry a lot.
---
10. Book that Made You Happy
There were actually a lot of books that made me happy this year so far. I don't like to leave books feeling upset (past general cliffhangerness and angst) because books are an escape for me. That being said, I really enjoyed
She's With Me by Jessica Cunsolo
.
This is one that I actually read on Wattpad many many years ago when it was first being published chapter-by-chapter. I'm so happy that it's been released in a newly edited and revised paperback so that I can add it to my book collection. It was just so fun being back in this story with these characters and I had such a good time rereading this. I'm also just very excited for the second book to be edited and released this December!
---
11. Favorite Book to Movie Adaptation
I haven't really watched many this year, but I did reread the first three Twilight Saga books so far (with Breaking Dawn coming in July) and it reminded me of how much I loved the movies. The Twilight movie isn't the best quality but it's still fun and New Moon and Eclipse are wonderfully shot and produced! I honestly want to have a movie marathon soon because I love the stories so much.
---
12. Favorite Review You've Written
My favorite review I wrote for a book I actually liked was my review for
House of Earth and Blood by Sarah J. Maas
, which can be found
here
.
However, I also loved writing my
Crave
review because it's nice to rant sometimes. This is an extensive negative review on the book, so if you enjoyed it, I would recommend caution reading the review since I did hate the book and am mercilessly ripping into it
here
.
---
13. Most Beautiful Book you Bought
This is also really hard, but I'm going to go with
Chain of Gold by Cassandra Clare
since I've already talked enough about
The Empire of Gold
and
House of Earth and Blood
. There were so many beautiful books that I bought and were sent so far this year but I do have to give a shoutout to the beauty that is
Chain of Gold
. I am really looking forward to seeing what the rest of the covers in this
Shadowhunters
trilogy look like. Also, I'm planning on reading the entire
Shadowhunters
novels in chronological order so that I can refresh myself on the
Infernal Devices
before I dive into this one!
---
14. What do you need to read by the end of the year?
There are so many books that I want to read by the end of 2020 that it would take up so much time to write down. However, here are some that I'm excited about for the rest of the year:
Blood & Honey by Shelby Mahurin (plus a reread of Serpent & Dove)
Stamped from the Beginning by Ibram X. Kendi
Midnight Sun by Stephenie Meyer
the Renegades trilogy by Marissa Meyer
Lightbringer by Claire Legrand (plus a reread of Furyborn & Kingsbane)
the Nevernight trilogy by Jay Kristoff (reread the first and then binge the trilogy)
An Ember in the Ashes quartet by Sabaa Tahir (reread the first two and then binge the last two)
---
Thanks for reading!
xoxo
Lauren
---
You can follow my bookstagram
here
for more bookish content!
To get more awesome posts like this post, click the follow button to the right!
Get free worldwide shipping with Book Depository using my affiliate
link
---