May was, once again, a bigger book haul than I was expecting. There were definitely some impulse purchases for sure. However, there were a few that I ordered and paid for ages ago that finally arrived so that makes it a little easier. I got 10 books this month so let's just dive in!
---
The first book I got this month was Fourth Wing by Rebecca Yarros. I caved to the hype and went out and got a copy of this the week it released. I then had to spend the entire work week until my weekend off waiting to be able to read it. I then read it in one sitting and have not stopped thinking about it since. It's a definitely new favorite of all time and I cannot wait for the next book coming in November. Because I loved it, I then decided to get the Australian paperback edition to annotate in the future. So I actually got two copies of it this month and I'm not upset at all.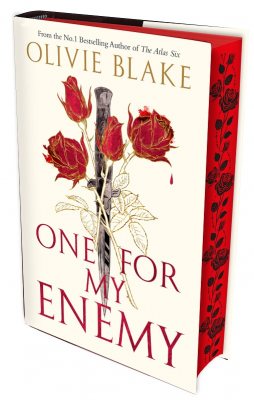 The next book I got was my preorder of the Waterstones edition of One For My Enemy by Olivie Blake. This is one of her previously indie-published books that has been picked up for traditional publication. I was lucky enough to get the indie version before it went out of print and I also wanted a copy of the new version. I decided on the Waterstones edition as it was normal price and I would get it on release over any of the book boxes. It is a beautiful edition and I'm very much looking forward to reading this one.
Then I picked up a copy of The Seven Husbands of Evelyn Hugo by Taylor Jenkins Reid. This has been a popular book for years and I've been intrigued by it but never picked it up until now. Then a friend was talking about wanting to read it and I saw a copy at the grocery store for cheap so I picked up two so that we could both get into it soon.
I also grabbed a copy of Falling Hard for the Royal Guard by Megan Clawson. I've been following Megan on TikTok for a couple years now and have always found her account interesting. She lives in the Tower of London and always has these cool stories about the history. She recently wrote this romcom and I knew I wanted to pick it up, so when I saw it for cheap I impulse bought it. I'm hoping to read it this summer.
Then my copies of the Crescent City Fairyloot editions arrived. I'm a massive SJM fan so of course I ordered these last fall and they've finally arrived. Of course, mine came damaged but replacements are being provided so I'll eventually have nice copies on my shelf. I'm still not sure how I feel about them. I was hoping having them in person would make me like them more after the initial reveal. I think mainly it's a difference in art style. I like the slipcase, the spine, the embossing, and the endpages. However, I don't particularly like the dust jackets or the sprayed edge design. I'll keep them for now until the final book comes out and then make my decision on if I'll keep them or not.
Then I got Six Scorched Roses by Carissa Broadbent. I began my journey into reading the books of this world this month and I knew I wanted to read the novella as well. It's very beautiful and I had a good time reading it. The world itself is super intriguing and I am definitely excited to see how these characters play into future books.
Then I got The Ashes and the Star-Cursed King by Carissa Broadbent. This is the second novel in the series and after I read the first book, I ordered this one alongside Six Scorched Roses. I'm currently reading it and enjoying it quite a bit, though I do think I currently prefer the first book. I've got about 200 pages left and I'm really wondering where it will all go.
The last book I got was Yellowface by R.F. Kuang. This book has been very highly anticipated because of the rest of the author's books. I've read Babel and really enjoyed it while The Poppy War is still on my TBR. This one is a literary fiction and I've heard great things. It also addresses the publishing industry and, as an aspiring publishing professional, I think it's right up my alley.
Thanks for reading!
xoxo
Lauren
---
You can follow my bookstagram
here
for more bookish content!
To get more awesome posts like this post, click the follow button to the right!
---