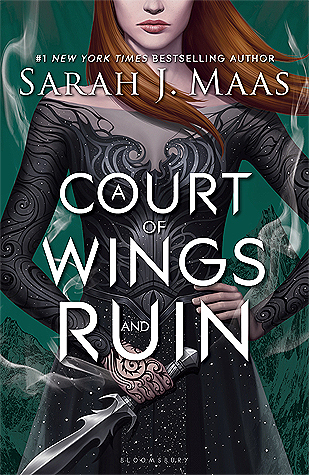 Title: A Court of Wings and Ruin
Author: Sarah J. Maas
Series: "A Court of Thorns and Roses" #3
Genre: New Adult Fantasy
Page Length: 699 pages
Publication Date: May 2, 2017
Date Started: May 2, 2017
Date Finished: May 6, 2017
Rating: INFINITY stars
It took me a while before I could even start to write this review, and even longer to write it. For those who want spoilery discussions, I suggest skipping the next few paragraphs until you see Spoilers in big letters. For those of you who don't want any spoilers, I would suggest only reading the first few paragraphs. And for those of you who want to read this entire thing, I suggest getting a bowl of popcorn or whatever snack you like and settling in for a long discussion because I certainly have many things to talk about.
I've broken this review down in three parts: Non-spoiler and semi-spoiler. Make sure to pay attention to those headings if you haven't read this book/series. I was going to add a complete spoiler discussion but it was getting unnecessarily long and I knew I needed to get this posted before Sarah releases her next book :)
~
NON-SPOILER SECTION: Does not spoil any of the series
First, I love this series to the moon and back. I don't think there will ever be a time that I won't love this series. When I first read ACOTAR, I liked it but then ACOMAF took this series to a whole new level. This latest book brought it even further.
A Court of Wings and Ruin
was everything I ever wanted in the conclusion to Feyre's narrative in this world.
I cried so hard that my sister heard me from three rooms away. I laughed so hard I gave myself coughing fits. I was worried so much of the time that my heart was beating so fast it probably wasn't healthy. To sum it up: this book was intense.
The side characters were perfection. I will always have Feyre and the one I ship her with as my favorite characters, but all the side characters really ramped it up in this installment. Everyone was amazing. The sass, the interactions, the family aspects. I loved it all.
So...to sum up this non-spoiler section: ACOWAR was perfect. If you haven't read this series, you NEED to. The characters Sarah J. Maas creates are one-of-a-kind and the plot she weaves will bring you to your metaphorical knees. This has definitely become my favorite book of all time and my favorite SJM book.
~
SEMI-SPOILER: May have spoilers for ACOTAR/ACOMAF but not this installment.
Let's just say that I fell even deeper in love with the Inner Circle in this book. The banter and the wit and the sass all combined with how deeply they all care for each other brought me to my metaphorical knees. I loved loved loved seeing more of them in this book.
Most of the new characters I absolutely adored. Some others had me wanting to bash their brains in, but a good number of the newer characters I loved. I already want to read more about them and I hope we get appearances from them in the upcoming books in this world.
The side characters were fucking amazing (and by side characters, I mean anybody who's not Rhys or Feyre). This comment combines my above-mentioned love for the Inner Circle and my adoration of most of the new characters. Everyone was just so good in this book. Their backstories, their thoughts and actions, everything. Each character was planned and thought out and it showed. These characters were so realistic for being magical immortal fae. I adored it.
Overall, I thought this book was the perfect installment to Rhys and Feyre's story. I obviously want to see more of them in the other books, but I thought that this book's ending was fantastic. Hopefully the new installments will feature Cassian, Nesta, Azriel, Lucien, Elain, and some other characters we meet in this novel. I would adore one all about Cassian, Azriel, and Rhys meeting each other for the first time and growing up.
~
Thanks for reading!
xoxo
Lauren
~~~


Get free worldwide shipping with Book Depository using my affiliate link:
~~~