Hello everyone! Thanksgiving is upon us (at least for us Americans it is). I am extremely excited for Thanksgiving and seeing all my extended family and eating all of the amazing food that we're going to have. I thought that since I did a Halloween Book Tag, I should also be festive in November and do a Thanksgiving edition. So, without further ado, let's go ahead and jump into it!
1. Bread: What book is purely fluff and has no real plot line?
The book that I chose to go with for this is Groupie by C.M. Stunich.
This isn't to say that this book isn't good, or that the series overall doesn't have a plot line, because I like this book and adore this series. However, this first book is mainly just smutty and romance. The second and third books do have more actual plot and development, but this first book was more of a smutty free-for-all.


2. Turkey: What book made you want to fall asleep?
The only one that comes to mind immediately is Under Fire by Henri Barbusse.
I had to read this book for class so that I could write a paper on it over the summer, and it was the worst book I've ever read. It was boring, repetitive, and I could barely read more than two pages at a time without needing a break or a nap. I'm sure it's great for some people, but the combination of me being forced to read it for school, the fact that it was not a genre that interested me, and the fact that I had to read it slowly to analyze it made it entirely boring and annoying. I will never reread it and I do not think that I have improved as a student after reading it.


3. Gravy: What book makes the whole series worth reading?

This was harder for me to think about because if I don't like the first book in a series, I generally don't continue on reading the series. However, a book that took a good series and turned it into an amazing series is A Court of Mist and Fury by Sarah J. Maas.
I enjoyed the first book (and gave it 5/5 stars), but it wasn't my favorite book or my favorite series. Then the second (and eventually the third) book came out and it raised the bar so high. It brought this series to a whole new level that I wasn't expecting, and I adored it. This book brought this series to a new level of fantastic that I hadn't read in book 1, and I loved that.


4. Stuffing Dressing: What book is stuffed full of action DRAMA scenes?
The book I picked for this is
Delicate Beauty
by Nikki Bolvair.
This book was pretty good, but there was a lot of drama in it. Sometimes it seemed like it was a little TOO dramatic, and that we could have done with something a little more realistic. Still, overall it was a good story that I enjoyed and am looking forward to the second book.
5. Mashed Potatoes: What book looked good, and then wasn't?
I chose to go with
Miss Peregrine's Home for Peculiar Children
by Ransom Riggs.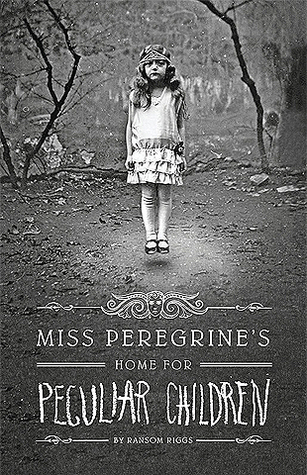 Now, not to say that this book was a
bad
book, but it wasn't the best. From all the hype people have given it and how amazing the movie looked, I expected a lot more from this book than what I got. It didn't live up to my expectations, which I'm really quite sad about as I was looking forward to this book and this series. Such an interesting concept, but I felt that it could have been done better than it was.
6. Cranberries: What book has the sweetest romance?
I have to go with
Long Way Home
by Katie McGarry.
I loved this book. It's the third in a series of companion motor-cycle club contemporary novels and this one was by far my favorite. It was so sweet and cute and amazing. I don't want to give anything away about it, but just read the series and then read this book and you'll figure out what I mean.
7. Corn: What's the corniest book you've ever read?

I'm actually unsure on this one. I don't think I've really read many corny books that I can think of. I think I'll have to leave this one blank.



8. Green Beans: What book is too long and needs to be shortened?
For this I'm going with
Beautiful Darkness
by Kami Garcia and Margaret Stohl.
Now, it has been a long time since I read book one of this series. I did not get through the first third of book two. I felt like it was dragging and I know that they probably could have shortened it to make it a better story. I still haven't finished this book, and I honestly doubt that I will.
9. Pumpkin Sweet Potato Pie: What book do did you read to get out of a reading slump?
I'm currently in a super-long reading slump, which sucks, but I remember being in a reading slump last year as well. It was just after
A Court of Mist and Fury
had come out and I'd read through it so quickly and it was so amazing but it put me in a reading slump. The book that kept me going was
Every Pane of Glass
by H.B. Stumbo.
H.B. Stumbo has written quite a few books that I completely adore. Her H.A.S.H. series is probably my favorite, but I'm also quite partial to her poetry collection as it is the collection that got me into reading more poetry. This book, however, is the one that kept me from falling into an ACOMAF-induced slump. It was mysterious and suspenseful and I couldn't put it down. I loved it.
I also decided to add a question to this book tag that I thought was needed as this is a THANKSgiving book tag...
10. Thanks: What book series are you most thankful for?
I'm definitely going to give four for this answer, but since it was a question that I added, I'm going to say that it's allowed. The first series that I'm thankful for is
Harry Potter
by J.K. Rowling.
This series is what really got me from picture and short chapter books over to actual longer books and reading. I credit this series and the next as the ones that got me into loving reading. HP taught me a lot of life lessons and took me on the first big adventure of my life.
The second series is
Twilight
by Stephenie Meyer.
While I can acknowledge that there are problems with this series and that it is not the best book ever written, it will always hold a special place in my heart for many reasons, but mostly because it was one of the first book series (apart from HP) that I'd ever read and was one of the first fandoms that I was hugely active in. I've made so many friends and grew closer to other friends because of this series.
The third and fourth series are the
Throne of Glass
and
A Court of Thorns and Roses
series, both by Sarah J. Maas.
These two series are two that helped me get back into reading after a two-year hiatus. I loved these series and I credit a lot of myself and my current life to these series. I've formed so many friendships that started with us talking about these series. I will be forever grateful to these series, and there hasn't been a single series since that has come close to beating these two out for my favorites.
~~~

Thanks for reading! I hope everyone who celebrates Thanksgiving had an amazing day full of food, family, and fun. If you don't celebrate Thanksgiving, I hope that you had an amazing Thursday!
xoxo
Lauren
~~~
Follow this blog by clicking "Follow" on the right hand column! Add me to your Google+ Circles on the left hand column! New content every month from Reviews to Hauls to Tags! Don't forget to check out all the other parts of this blog by following the different links at the top of the page!
Follow my Instagram
here
. Giveaway at 1k followers!
Get 10% off of
HD Movie Codes
(sponsored by Movies Anywhere) when you use "INFLUENCER" at checkout!
Get free worldwide shipping with Book Depository using my affiliate link:
~~~