Welcome to another monthly wrap-up everyone! Looking back, November was a pretty long month but it felt like it flew by. Can you believe it's already December?! Get ready for a jam-packed month of 2017 wrap-up posts, more book reviews, and hopefully a Christmas giveaway?
Anyway, this month I read 5 books, none of which were on my monthly TBR. I'm a little annoyed at myself that I wasn't able to read more, but I also was super busy with school and social life, plus Netflix was calling my name. However, I'm in a really big 'I want to read everything right now!' mood, so hopefully December will be better. Especially since my last class is on the 6th and I only have two finals before a month-long winter break.
On top of reading 5 books, I bought 8 books and some amazing nerdy merch (check out my haul here). I also was able to put out 8 blog posts, which I expect to pass, if not double, in December. I watched some new shows and movies that I'll also be talking about below. And then I'll be finishing off with some of my favorites for the month of November.
~~~
BOOKS READ
1.
Title:
The Princess Saves Herself in This One
Author: Amanda Lovelace
Rating: 5/5 stars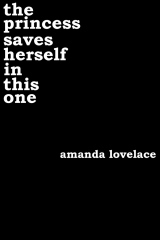 I found so much of myself reflected in these pages. I have no words to say other than it was inspirational and heart-wrenching and one of the first steps towards my own self-healing.
2.
Title: Four Psychos
Author: Kristy Cunning
Rating: 5/5 stars
I loved this book. I can't wait until the next one comes out. I thought that this book was so different and unique. I felt like it was a mixture between the book, Trickery, and the TV show, Being Human. The plot was interesting and the characters were hilarious. I can't wait for the second book to be released.
3.
Title: Academy of Assassins
Author: Stacey Brutger
Rating: 4.5/5 stars
I really enjoyed this book. I don't want to spoil anything about the ending, so I'm not going to go much into the little details that I loved. Just know that I adored this book. The concept was so cool and the characters gave me life. I am appreciative of the realistic, slow-burn romances and relationships. I'm also pretty proud of this book for surprising me and successfully pulling off plot twists, as I usually can see them coming from a mile away. This book was longer than some other RH books that I've read and it was so good because of that. I can't wait for the next one--I know it will be just as good and, hopefully, just as long.
4.
Title: Trickery
Author: Jaymin Eve and Jane Washington
Rating: 5/5 stars
-Reread-
5.
Title: Persuasion
Authors: Jaymin Eve & Jane Washington
Rating: 5/5 stars
-Reread-
~~~


BLOG POSTS
October 2017 Wrap-Up
Never Have I Ever: Book Edition
October 2017 Book Haul
Let's Talk: "Whispers From the Dead" Book Review
Reverse Harem Guide Pt 2: RH Book Recommendations!
An Eloquent Soliloquy by Rhi
Thanksgiving Book Tag!
Bookish Holiday Gift-Giving Guide!
~~~
MOVIES/TV SHOWS WATCHED
1.
American Horror Story: Murder House
(Season 1 of AHS)
I have no clue why I haven't watched American Horror Story before this month. I think I just expected it to be a lot scarier than it actually was. I binge-watched it and really enjoyed it. I can't wait to watch the next season (I'm currently two or three episodes in and enjoying it...I've only heard amazing things about this season). Plus, I'm definitely now a huge Evan Peters fan, not gonna lie.
2. Seasons 1 and 2 of
Stranger Things
I can't believe it took me this long to watch Stranger Things. However, I'm so glad that when I finished the first season, I could just jump straight into the second. I watched the entire thing with a friend and we both adored it. I can't wait for more, especially of Mama Steve. I have some fan theories about what season 3 will consist of but I'm going to keep them to myself for now until I develop them a little more.
3.
Suicide Squad
I finally watched this after so many people telling me that it wasn't as good as they expected, and I was pleasantly surprised. There were some things that could have been done better, but overall it was a great movie that I really enjoyed and will be rewatching again.
~~~
FAVORITES
Candy: Definitely Reese's. Always a classic. I also discovered Junior Mints for the first time and I think they'll be a new favorite soon.
Food:
Music: I've been listening to Hozier quite a bit, but I'm also going back to an old obsession and made a new Backstreet Boys playlist that I've been listening to quite a bit. I also am quite partial to party jams on Saturday nights.
Chill-Activity: Netflix and Naps. Animal Crossing: Pocket Camp also released on iOS this month and I've been playing that shit non-stop.
~~~
Thanks for reading! Stay tuned for more :)
xoxo
Lauren
~~~

Follow this blog by clicking "Follow" on the right hand column! Add me to your Google+ Circles on the left hand column! New content every month from Reviews to Hauls to Tags! Don't forget to check out all the other parts of this blog by following the different links at the top of the page!
Follow my Instagram
here
. Giveaway at 1k followers!
Get 10% off of
HD Movie Codes
(sponsored by Movies Anywhere) when you use "INFLUENCER" at checkout!
Get free worldwide shipping with Book Depository using my affiliate link:
~~~