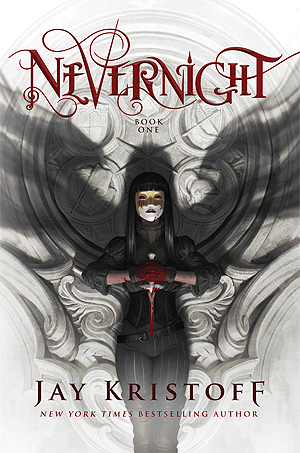 Title: Nevernight
Author: Jay Kristoff
Series: "Nevernight Chronicles" #1
Genre: High Fantasy
Page Length: 429 pages
Publication Date: August 9, 2016
Date Started: January 16, 2018
Date Finished: February 9, 2018
Rating: 4.75/5 stars
Amazon
*Spoiler Free Review*
I really enjoyed this book. I was hoping that they hype wouldn't make my expectations too high but I was thoroughly pleased with this book. It was a little slow going for me at the beginning simply because of how busy I was getting back into the groove of things at college, but when I finally had a lot of spare time, I read 300 pages in less than a night because I just had to know what happened.
I must say, the last 150 pages were such a whirlwind of emotions and feelings that I'm genuinely surprised I didn't cry. It was 100% because I was in a room full of my friend and didn't want to start crying in front of them, but I'm still surprised I pulled it off.
This book was epic and bloody and everything I needed. Mia is such a badass and I can't wait to see how her character progresses in the upcoming books. There are a few characters that I'm not going to chat about because it might spoil the ending for anyone, but I'm so excited to see what happens with them in the next.
I'm so grateful I bought book 2 when it came out because after finishing the book, I want moreeee. I want to know what happens with these characters even though the ending of this book was relatively cliff-hanger free. I'm excited to dive into book 2 hopefully soon.
~~~
Thanks for reading!
xoxo
Lauren
~~~
Follow this blog by clicking "Follow" on the right hand column! Add me to your Google+ Circles on the left hand column! New content every month from Reviews to Hauls to Tags! Don't forget to check out all the other parts of this blog by following the different links at the top of the page!
Follow my Instagram
here
. Giveaway at 1k followers!
Get 10% off of
HD Movie Codes
(sponsored by Movies Anywhere) when you use "INFLUENCER" at checkout! *I do not receive commission from HD Movie Codes--I just want to save you some $*
Get 10% off your first order, plus 50 rewards points, when you use this link to purchase a personal aromatherapy diffuser from
Monq
Get free worldwide shipping with Book Depository using my affiliate
link
~~~