It really is no secret that the
Throne of Glass
series by Sarah J. Maas is my favorite series. As one of the series that catapulted me back into reading after a dry spell that lasted a few years, it's not only brought me back to my love of reading but also helped me form friendships and strengthen those that I already had. It truly has had such an impact on my life. To know that the final book is coming out in three months exactly is both terrifying and exciting! I've been waiting for this book for two years and I can finally see what happened after
Empire of Storms
and
Tower of Dawn
. I will finally have some closure!
I'm putting together this informational post just to condense a lot of release information into one place. I, for one, don't want a fan like myself to miss out on cool opportunities just because they didn't know about them. So here's everything you need to know about Kingdom of Ash's release from special editions, tour information, preorder promotions, and more!
---
First, obviously we need to start with the cover and synopsis, right? So for those of you who haven't read the entire series, I would just skip until you see the next horizontal line or else you'll be spoiled for the previous books. Before the synopsis, here's the cover (which I'm sure you've seen around!)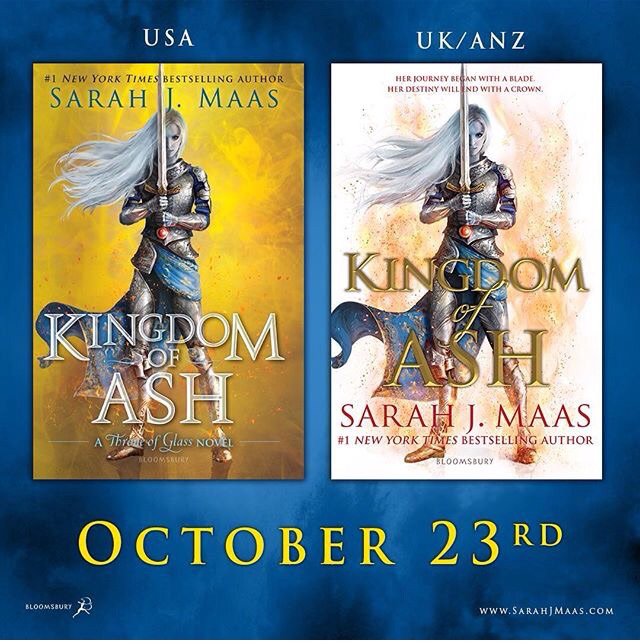 I do like the cover, but I'm not sure how I feel about the yellow on yellow? I think we were told that the flames would be foiled so that will make it look super cool I think. In this case, I think I prefer the UK cover over the US, even though I love them both. Either way, I hope that yellow means a happy ending!
Years in the making, Sarah J. Maas's #1 New York Times bestselling Throne of Glass series draws to an epic, unforgettable conclusion. Aelin Galathynius's journey from slave to king's assassin to the queen of a once-great kingdom reaches its heart-rending finale as war erupts across her world. . .
Aelin has risked everything to save her people―but at a tremendous cost. Locked within an iron coffin by the Queen of the Fae, Aelin must draw upon her fiery will as she endures months of torture. Aware that yielding to Maeve will doom those she loves keeps her from breaking, though her resolve begins to unravel with each passing day…
With Aelin captured, Aedion and Lysandra remain the last line of defense to protect Terrasen from utter destruction. Yet they soon realize that the many allies they've gathered to battle Erawan's hordes might not be enough to save them. Scattered across the continent and racing against time, Chaol, Manon, and Dorian are forced to forge their own paths to meet their fates. Hanging in the balance is any hope of salvation―and a better world.
And across the sea, his companions unwavering beside him, Rowan hunts to find his captured wife and queen―before she is lost to him forever.
As the threads of fate weave together at last, all must fight, if they are to have a chance at a future. Some bonds will grow even deeper, while others will be severed forever in the explosive final chapter of the Throne of Glass series.
---
Pre-Orders and Special Editions
I think after the cover reveal, we should talk about where you can get the book? Am I right? There are numerous places you can get the book as well as different special editions! Here's information on all of the different special editions! You can also order signed copies from Sarah's tour stops (information down below with the tour links and such).
Available at Barnes & Noble: This hardcover edition will have a poster on the back of the jacket featuring art from Charlie Bowater, pages from Sarah's writing notebook, and Sarah's signature on the book cover (under the jacket)
Available at Indigo and Books-a-Million: This hardcover edition will feature art from an artist to be announced on the endpapers and Sarah's signature on the book cover (under the jacket)
Available at Waterstones: This paperback edition will feature art from an artist to be announced inside the book.
Available at Target: This edition will feature a removable character card and Sarah's signature on the book cover (under the jacket)
---
Sarah is also going on tour in the US! I am so excited about this and I also have a little bit of anxiety because I don't know for sure if I'm going to get to meet her? Either way, here's all the tour information and a link to where you can find out more! (note: this is US but she did say that she will be doing a Europe tour later on)
I'll personally be at the event in Naperville and I can't wait! There is just so much excitement for me with getting to meet my favorite author again at a tour stop for the final book in my favorite series! Even though it's three months away and I don't even know if I'll be able to get a VIP ticket, I'm still so excited.
What is a VIP ticket you ask? Well, let me explain! There are three types of tickets: Standard, VIP, and Companion. There are limited numbers of the tickets for the signing but VIP are the most limited at 50 per venue. But what do you get with each ticket?
VIP Ticket (Limited to 50)

-Seating/entrance for two people

-Only one set of merchandise

-Everything in the standard ticket PLUS:

-Signed, personalized tour copy of

Kingdom of Ash

-Pre-signed, special tour copy of

Kingdom of Ash

-Exclusive art print from Charlie Bowater

$5-$10 more than the others
You can visit this
link
to see where you can order tickets, more information about companion tickets, and information about how the ticket sales is used to benefit underprivileged children! Each event will also host a canned food drive for local food banks.
At each event, there will be trivia, photo booths, temporary tattoos, fan art galleries, and more! It is not clear how many standard tickets there are, but these events are limited. VIP is especially limited and will likely sell out very quickly!

*All four events are sold out, but there is a wait list at most stores! You can also order signed copies from some of the shops, so I would definitely check that out if you're interested!*
---
At this time, there has not been a preorder promotion announced. It should be announced soon and this page will be updated accordingly! I'm so excited for it nonetheless. All of the special editions, digital editions, and regular editions will count towards the promotion!
---
Thanks for reading! I hope this is informative and helpful!
xoxo
Lauren
---
Follow this blog by clicking "Follow" on the right hand column! Add me to your Google+ Circles on the left hand column! New content every month from Reviews to Hauls to Tags! Don't forget to check out all the other parts of this blog by following the different links at the top of the page!
Follow my Instagram
here
. New giveaway will be posted in late May!
Get 10% off of
HD Movie Codes
(sponsored by Movies Anywhere) when you use "INFLUENCER" at checkout! *I do not receive commission from HD Movie Codes--I just want to save you some $*
Get 10% off your first order, plus 50 rewards points, when you use this link to purchase a personal aromatherapy diffuser from
Monq
Get free worldwide shipping with Book Depository using my affiliate
link