So here we are with another book haul. I honestly thought this month's haul was going to be so much smaller than this, but I'm also pretty okay with the number I have. In terms of physical books, I got 21 of them. However, I only bought 5 of them. The rest were either gifts, giveaway wins, trades, or sent to me from publishers/authors. So 16 free books is pretty great, if I'm being honest. I also got 12 ebooks with all of them either being discounted to less than $3 or free. Let's just dive in because I have a lot of books to talk about!
---
Like I said, I got 21 physical books this month. I wasn't expecting so many because I hadn't budgeted for that but most of them were free. I was pretty lucky this month with publishers/authors and winning giveaways.
Up first I have one of the actual books I did purchase and that is
Aurora Rising
by Amie Kaufman & Jay Kristoff. I preordered this from Good Choice Reading back in April, so I didn't technically buy this this month but it still took until June to arrive. The reason I preordered it from them is because my copy came signed and personalized as well as with the bonus Memento novella.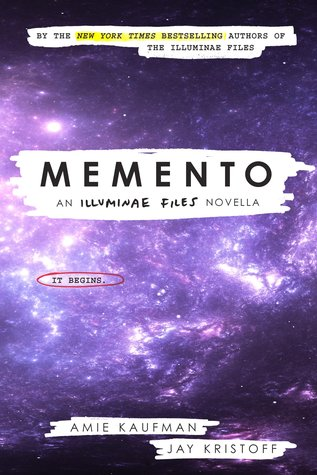 So the next book I have is obviously
Memento
by Amie Kaufman and Jay Kristoff. This was free with my preorder but I have a funny story. I sent in my proof of preorder for my regular edition before I found out Good Choice Reading was hosting a signing. So I canceled that order and switched over, but my preorder giveaway entry was still valid so a few weeks later I ended up getting
another
copy of Memento. I have two right now and I'm not sure if I want to give one away or keep both in case I lose one in the many upcoming moves.
Next I have a copy of
Nocturna
by Maya Motayne. I actually won a signed and personalized copy of this from a giveaway on Instagram which I'm super excited about. This book has been on my radar for a few months but with all of the amazing releases in May, I couldn't swing buying myself a copy. I've heard nothing but great things about this book and I'm so grateful to have won a copy so that I can read it sooner rather than later!
Then I purchased
Unchained
by Jennifer L. Armentrout. I got this for super cheap on eBay and I consider it a pretty good bargain find. I am annoyed, though, because I ordered it in "Like New" condition and it came ex-library with stickers that started ripping the book when I tried peeling them off and a broken spine. Still, I didn't want to deal with sending it back and repurchasing, so I'm dealing with it because it is a book I'm interested in reading. If I do love it, I can always repurchase it in a better condition.
Then I have
Wish and Mercy
by A.J. Gala which I got for free in order to participate in an Instagram tour for this book. Not only is the cover absolutely gorgeous but the book sounds so good! The author also signed and personalized the tour copies and included a bunch of swag items which I'm super excited about.
Next I received three books from Penguin Random house in exchange for participation in the Summer Lovin Blogger Campaign. There were three new releases being talked about for this campaign and each participant was sent all three books but picked one book to focus on. I am so grateful to have been a part of this since I'd seen all three of these books around and was interested in reading them but didn't think I was going to get to do so. Did I mention that all three of these books have LGBT rep? Obsessed!
For the campaign, I focused on
Her Royal Highness
by Rachel Hawkins. I'd seen this around and was interested, so when I got the chance to be included in this campaign I jumped at the chance. I really enjoyed this book and had such a fun time reading it and curating a playlist. You can find my post
here
.
The next book that was sent out for the campaign was
Hot Dog Girl
by Jennifer Dugan which I am so excited about. This book sounds so good and also hilarious. I mean, the main character is a dancing hot dog? Plus, the cover is stunning and I've heard a lot of good things.
The last book that Penguin sent me was
These Witches Don't Burn
by Isobel Sterling. This sounds witchy and spooky and awesome. I really want to read this closer to Halloween but since I'm going to be studying abroad, I'm not quite sure that I'll be able to read it this Halloween season. Still, it sounds awesome and I'm so excited to have a copy in my hands.
Then I got
Storm and Fury
by Jennifer L. Armentrout which is her newest release. This book picks up after the end of
The Dark Elements
trilogy which is one of my favorite trilogies. It follows one of the non-main characters of that trilogy in a new story and I'm beyond excited to get to this book! I've heard nothing but amazing things and I honestly can't wait to dive back into this world and characters.
Up next I was sent a free copy of
Forgiven are the Starry Eyed
by Christine Doré Miller in exchange for an honest review (which should be up in August). This book is pretty different from what I usually read in terms of subject matter but it's on a topic that's close to my heart. I don't really know what to expect from this book but I am definitely interested in getting to it soon.
Next I traded with someone on Twitter for an advanced copy of
Kingdom of Souls
by Rena Barron. This comes out in September and sounds absolutely awesome. The only thing I remember from being introduced to this book was being told that if you like Black Panther then you'll like this book.
Then I picked up a copy of
Elixir
by Jennifer L. Armentrout which completes my Covenant series. I've only read the first book in this series but the novellas are no longer in print so I wanted to get them before they became super expensive. I do really want to read this series soon, though I'm not sure if I'll get to before the end of the summer.
Up next I won the giveaway of all giveaways. I am honestly still so excited about winning this giveaway on Instagram and I can't actually believe that I have these books. Anyway, I won four advanced copies of summer and fall releases for this year and a lot of them are super anticipated for me.
The first of these arcs is
Call it What You Want
by Brigid Kemmerer. I'm not a big contemporary fan and I've never read anything of Brigid's before but the synopsis to this one sounded pretty cool so I figure that as long as I have a copy I can give the book a shot.
Next I won an arc of
The Guinevere Deception
by Kiersten White. This is the first book in her newest trilogy that releases in November. It's an Arthurian Legend retelling focused all around Gwen, but in this version she's a changeling sent to protect Arthur. I am beyond excited for this book since I enjoyed And I Darken and I absolutely love the Arthurian Legend!
The next arc I won is
The Beautiful
by Renée Ahdieh. This is her newest book and the quick pitch I got of this book was "vampire murder mystery set in historic New Orleans" and that got me to jump straight on board so quick. I have plans to read it in July and I just can't wait to dive into this world!
The last arc I won is the whole reason I entered the giveaway in the first place:
Serpent & Dove
by Shelby Mahurin. I've heard so many amazing things about this book and it sounds so good. I've also been told that if you like ACOMAF then you'll enjoy this book so I am all on board for this one.
The next book I have is from a trade with a friend of mine: a signed and personalized first edition original hardcover of
Throne of Glass
by Sarah J. Maas. Not only are these editions extremely difficult to find, but I was able to find one that is signed and personalized to my name. *Cue crying* I am so grateful that I was able to trade for this book and I can't wait for the day when I have shelves again and can put my entire collection up on them.
Then I purchased a copy of
This Shattered World
by Amie Kaufman & Meagan Spooner from eBay. I got it for super cheap in such great condition and imagine my surprise when I opened the package and found out it was a signed copy! I am so excited to have completed collecting the Starbound Trilogy and now I'm just eager to dive in and start reading!
Up next I was sent an arc of
Nottingham
by Nathan Makaryk. This is somewhat of a Robin Hood retelling and I'm definitely pretty interested in it. I haven't heard much about it and it's a pretty chunky historical fantasy but I'm always up for a challenge!
The last book I got this month was
Fix Her Up
by Tessa Bailey. I heard about this book part way through June and knew that I needed to read it. I was lucky enough to find a copy at Target one day and then I read it in one day while I was on vacation. It was such a fun, light-hearted read that still dealt with more than just the romance. One thing that I know for sure is that I can't wait to read more of Tessa Bailey's works!
---
I also got quite a few ebooks this month--12 in total. I don't want to spend much time talking about them so I decided to just list them here. All of these were either free or on sale for less than $3 so I'm pretty happy with them. Additionally, a lot of them are either books I'm really excited about reading or books that I love and wanted the ebook for.
Descendant of the Crane by Joan He
The Kingdom of Copper by S.A. Chakraborty
Bloodwitch by Susan Dennard
An Ember in the Ashes by Sabaa Tahir
Reverie (e-arc) by Ryan La Sala
Her Crown of Fire (e-arc) by Renee April
Hypnotizing Beat (e-arc) by Katherine McIntyre
Beyond the Veil by B.L. Brunnemer
Emblaze by Jessica Shirvington
The Bone Witch by Rin Chupeco
Rhapsodic by Laura Thalassa
A Strange Hymn by Laura Thalassa
---
Thanks for reading!
xoxo
Lauren
---
Get free worldwide shipping with Book Depository using my affiliate
link
---