It's now time for one of my favorite annual posts where I discuss my favorite books of the previous year! This past 2019 was an insane year for me in all aspects of life, but especially in reading. I read 138 books in the span of the last twelve months and narrowing down my top 10 was definitely challenging for me. There are so many other books that I could have put on this list, but if you'd like to know more of my favorites, check out my Goodreads shelf here.

A few little things before going in: I narrowed it down to just 10 this year because a longer list would be a lot in a blog post. Additionally, I included books in the same series as one spot because if I'd kept them separate, this list would have been dominated by three series. Now that that's out of the way, without further ado, let's dive into the books I loved in 2019!
---
#10: Only A Breath Apart by Katie McGarry
I read this back in June and was blown away. This book impacted me in ways I can't even describe. I saw so much of myself in these characters and this story and I felt so
seen
. While I can relate to characters in other novels, I felt that this story especially hit me hard because I could understand a lot of the situations more. I will admit to crying a lot in this book. I had always enjoyed Katie's books when I'd read them previously but this book really cemented in Katie's place on my favorite authors list.
---
#9: The Last Namsara & The Caged Queen by Kristen Ciccarelli
I'd been wanting to read
The Last Namsara
since it first came out and I was lucky enough to be sent all three books in this series in exchange for review. I finished the first two in the last bits of 2019 and I'm very much looking forward to the third. What really made these books hit this list was the fact that I definitely binge-read as much of these books as I could. Both of these are pretty different from each other but I thought that really shows Kristen's diverse writing ability. After these two, I'm very excited to see what she does next with the final book.
---
#8: A Wicked Trilogy by Jennifer L. Armentrout
Jennifer is one of my favorite authors of all time and I was so excited to dive into another series of hers. I binge-read this one over the summer and absolutely fell in love with the characters and story. It's set in New Orleans, a place I've always wanted to visit, and is all about fae and fae-hunters. It was a wonderful ride from start to finish that had me laughing, crying, and throwing the book across the room (which, as all readers know, is the highest praise). I'm very excited to dive into the spin-off sequel novellas as soon as the third one is released later this year.
---
#7: A Fallen Hero by Sara A. Noë
This was one of the more surprising placements on this list. When I was first contacted about reviewing this book, I was interested in the story but had reservations since I hadn't seen much conversation around it. I'm so glad that I gave it a go because it was a wonderful ride. It's such an interesting story concept and, despite being over 450 pages, I felt like I flew through it. I never wanted it to end and I already can't wait for the sequel to come out later this year.
---
#6: Red, White & Royal Blue by Casey McQuiston
Up next I have another surprise placement. I don't tend to reach for or read a lot of contemporaries because I prefer my stories to have something else going on besides just the romance. However, there was a lot of hype surrounding this one and it actually sounded like something I'd be interested in, so I preordered it. I ended up reading it in almost one sitting and absolutely loved it. I was laughing, I was crying, and I was so invested in this book and these characters. I can't wait to reread it soon and also see what the author does next!
---
#5: Stalking Jack the Ripper series by Kerri Maniscalco
While I read the first book back when it came out many years ago, I didn't actually get around to reading the rest of these books until 2019. I don't know why, since
Stalking Jack the Ripper
was a book that I absolutely loved. However, I finally read them all this year and absolutely fell in love even more than I already was. Every book took the characters on a different journey and development and it was honestly such a joy to read it all.
---
#4: Witchlands series by Susan Dennard
While I read
Truthwitch
at the end of 2018, I read the rest of these books in 2019 to catch up with the series and fell in love with them. I think
Bloodwitch
is my favorite so far and I can't wait to see what happens in the next few books in the series. These books are just so interesting and fun and suspenseful. The world is interesting, the magic exciting, and the characters compelling. I can't wait to reread them soon!
---
#3: Kingsbane by Claire Legrand
Furyborn
was one of my favorite books of 2018 so it's no surprise that
Kingsbane
also landed a spot on my favorites list. This was one of my most anticipated reads of 2019 and it definitely blew me away. So much happens in this book and there were so many mind-blowing moments. I definitely was completely destroyed by the ending of this book and I can't believe the massive cliffhangers that we got left with. I just have one thing to say...I really need a copy of
Lightbringer
already.
---
#2: The City of Brass & The Kingdom of Copper by S.A. Chakraborty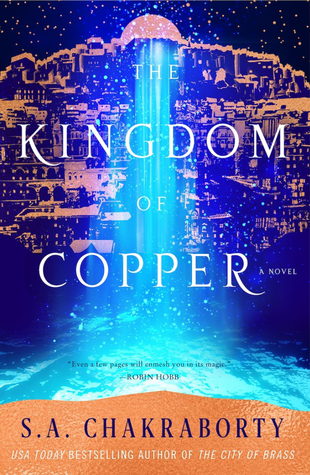 These first two books in the Daevabad trilogy also were a complete shock to me when I read them. To be fair, I'd heard nothing but good things about them but I didn't really have the desire to get copies of them until I won a giveaway for the first book and ended up with an ARC of the second. I binged them one after the other and fell in love. There was not a moment while reading these where I wanted to put them down. The characters are phenomenal, the world extremely vivid and interesting, and the political intrigue and social issues kept me turning the pages as fast as I could. I am so excited for the final book to release in 2020, though I am sad to see this trilogy come to an end so soon after I discovered it.
---
#1: Serpent & Dove by Shelby Mahurin
My favorite book of the year definitely goes to Serpent & Dove by Shelby Mahurin. Not only is this book extremely gorgeous, but the story itself is a perfect combination of a lot of my favorite tropes and genres. We have a fantasy romance with some enemies-to-lovers, arranged marriage, witch vs witch hunter, and even more. I read this book so quickly and I think about it all the time. I've been wanting to reread it from the moment that I finished the last page and I can't wait to actually be able to reread it later this year.
---
Thanks for reading!
xoxo
Lauren
---
Get free worldwide shipping with Book Depository using my affiliate
link
---