The final book haul of 2021 has arrived! Yes, 2022 has already begun but there's still some wrapping up of the past year to finish (including this haul). I will say, I got a lot more books this month than I planned and expected to. My total number is 14 physical books...oops?
Additionally, there were some of these that I bought months and months ago (like before summer began) that I finally have in my hands. Others I bought secondhand, got in book boxes, or bought new. Whatever way I got them doesn't matter quite as much as my excitement for them. Let's dive in!
Up first we have the UK illustrated signed anniversary edition The Invisible Life of Addie LaRue by V.E. Schwab. I have not yet read this book but I also had not yet picked up a copy of my own. I'm not a fan of the original UK cover in comparison to the US one but this new anniversary cover is a lot more my speed. I've heard mostly amazing things about this book so I am hoping to finally get to it in 2022.
The next book I picked up was Illuminae by Amie Kaufman & Jay Kristoff. I had the biggest desire to reread this book and the ebook is horrendously formatted. The audiobook is fantastic, but a very different experience than reading the multi-media format. I like to think of the audio and physical books as the same story told in different ways. I love both, but I'd been craving to read the physical so I picked up a cheap secondhand copy just to get my fix in since my original copy is in storage in America.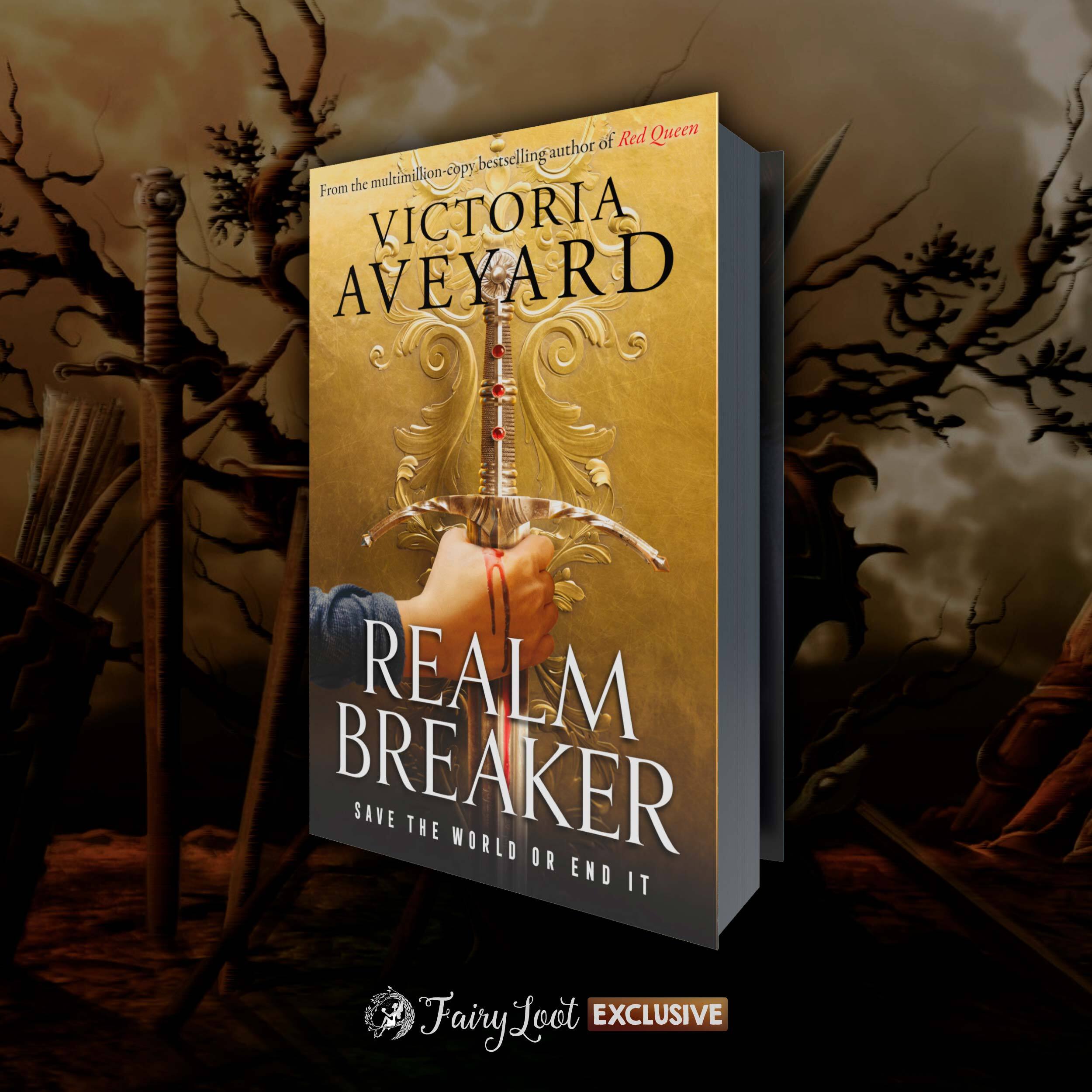 I also got both the Waterstones and Fairyloot editions of Realm Breaker by Victoria Aveyard. These both have sprayed edges (though different covers) and are signed. I am quite excited about them as well. I have not yet read Realm Breaker but I did read Red Queen in the fall. I decided that I wanted to read all of Victoria's books then and I knew if I loved Realm Breaker I would be annoyed if I didn't snatch these editions while they were so affordable. I'll likely read this over the summer in preparation for the sequel coming out.
Up next, I finally got my Fairyloot copy of The Gilded Cage by Lynette Noni. This is one that I ordered over the summer and it finally arrived in December. I am quite excited to read this series but think I'm going to hold off until the final book comes out in just a few months to dive in and binge read them. I've heard so many amazing things by people that I trust so I may end up having to read it sooner. Lastly, this is an absolutely stunning edition and I'm so excited to have it on my bookshelf!
Then I picked up two anonymous copies of A Broken Blade by Melissa Blair. This book was originally published anonymously and went viral on BookTok for it. I heard a lot of good things and decided that I wanted to read it, so I put it on my Christmas list. Then it was announced that the anonymous version would be pulled when the author was revealed so I snatched one up. Then it arrived damaged and I ordered a new one with the intent of sending the damaged one back. However, I then started reading the book and realized that I wanted to annotate and tab all over it. I still have a problem with doing that for books I don't have multiple editions of so I just...didn't send the damaged one back and instead annotated it. But I loved this book so much and I'm pretty happy with having more than one edition.
Up next I picked up Whatever Happens by Candace Buford and We Got the Music by G.M. King. When it was announced that Julie and the Phantoms was not getting a season 2 renewal at Netflix I was devastated. This is one of my favorite shows and I was so looking forward to getting more content and music. In my feels, I decided to finally pick up the last two companion novels I hadn't gotten yet. One of these is a novel that adds even more extra content than what is seen in the show. The other is a peek inside Julie's notebook with her thoughts, song lyrics, pictures, etc. I am so excited for both.
I finally got my Fairyloot copy of Gods & Monsters by Shelby Mahurin. These shipped a while back but not to my current address. I waited until Christmas to go to that address and finally get my copy. It's very pretty and I'm excited my Fairyloot Serpent & Dove collection is now complete. I only wish my other editions of this series were here with me and not in storage so I could photograph them all together.
Then I snagged signed editions of Seige and Storm and Ruin and Rising by Leigh Bardugo. These were sold for list price on eBay and I knew I had to snatch them up for two reasons. The first was that they didn't have the stupid Netflix permanent stickers on the cover and also because signed Leigh Bardugo books are pretty hard to come by at the price I paid. I'm really happy to have these on my shelves now and I can't wait to read them this year.
The last two books I got this month were in my December Fairyloot box. The first was The Year of the Reaper by Makiia Lucier. I heard about this book a few months ago and added it to my wishlist then. When the December Fairyloot theme was announced, I was so happy to already be interested in the book as sometimes their books can be hit or miss for me. This edition is absolutely stunning as well and I can't wait to read it.
The second book they included was an exclusive edition of The Coldest Touch by Isabel Sterling. While I haven't read anything by Sterling yet, I do own copies of her other books and they all sound right up my alley. A little bit of paranormal and contemporary mixed together? Yes! I'm still not sure if I love this edition or find it a bit ugly but I am excited about the story either way.