Well, another month means it's time for another book haul. I truly did not expect to haul as many books as I did this month but...well...things happen. I will say, the main reason why this month's haul was so big was because I had a bunch of packages that got lost in February and only showed up the very first days of March. Plus, I had some preorders finally come through that were quite exciting.
I picked up sixteen books this month, which is a huge haul for me recently. I am going to be severely cutting back in the upcoming months, though, and just trying to work through my physical and ebook TBRs (though I'll still be getting some books, of course). Without further ado, here's the sixteen books I got this month!
The first book I got this month was the Fairyloot edition of Daughter of the Moon Goddess by Sue Lynn Tan. This is, without a doubt, one of the most stunning editions I have ever owned. It has an exclusive cover (with my favorite colors in the scheme), sprayed edges, artwork on the endpages, embossing on the hardcover, and was signed. I was so excited for this book and was hoping it would be gorgeous, and I'm just blown away by how well done it was. For an in-depth look at this edition, check out my unboxing for February's box here.
The next two books I got were different editions of House of Sky and Breath by Sarah J. Maas. I picked up the international paperback edition and another standard UK edition. I ordered these in February and they were amongst the packages lost that didn't arrive until this month. I got another hardcover because I want to spray the edges to match the first book. The international paperback is also different from the paperbacks that will be released next year. This one is taller and floppier and just awesome. I'm just glad to have added these to my collection.
The next book I got was The Weeping Tide by Amanda Foody. This was the last of the packages that was lost in February that arrived finally. I am so incredibly excited to have this in my hands. Amanda is one of my favorite authors and the first book in this middle grade series was one of my top books of 2021. I have been eagerly anticipating this sequel. Additionally, this came out at the beginning of February and it took over a month for this copy to finally arrive to me so I'm just glad it's now here.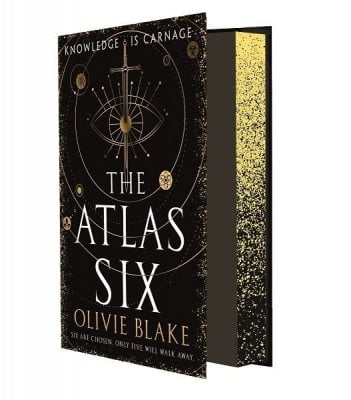 Then my preorder for The Atlas Six by Olivie Blake came in. This is the signed Waterstones exclusive edition with sprayed edges. I do have to admit, the edges aren't as nice as I'd hoped from the mockup. The coloring is much more vibrant yellow than a gold. However, I still like this edition and am hopeful that I'll enjoy the book just as much.
When I went to pick up my preorder for The Atlas Six I also picked up a copy of Galatea by Madeline Miller. This is a short story of hers that has been published in a physical standalone format. It's quite a cute little book and the story itself was beautifully written, as to be expected from Madeline Miller. Now all I need to do is finally read Circe and another short story I'll have gotten through her fiction works!
Up next I got the new paperback edition of Rise of the Evening Star by Brandon Mull. This is the second in the Fablehaven series which is my favorite middle grade series. I reread them this month and got the idea to annotate the new covers. I only ended up buying this one though due to shipping timeframes. Either way, it's nice to have a representation of this series on my shelves here. I also just loved revisiting this series in March.
Then I got Poison Study, Magic Study, and Fire Study by Maria V. Snyder. These are the old UK editions but I actually really like these covers so I picked them up secondhand from eBay. The main reason I got them, though, is because I'm doing a big project for one of my postgrad courses with this series as the focus. I figured I should reread it so that I can be all set for that project. If I love it as much the second time as the first, I also will probably get the rest of the series at some point.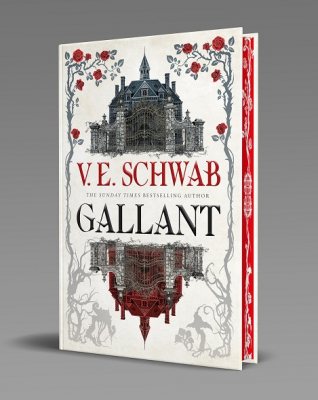 Up next is Gallant by V.E. Schwab. This is the signed Waterstones edition with sprayed edges. It's an absolutely stunning edition and I much prefer it to the US one. While I like the US cover, I hate the sizing of it. I much prefer this cover and like that the UK edition is also a more standard size. I haven't read any of Schwab's works but they have appealed to me and I've been slowly stockpiling my favorite editions over the years. I've also heard great things about this one.
Then I snagged the Illumicrate edition of A Dark and Hollow Star by Ashley Shuttleworth. This has pink sprayed edges and is signed. I just heard amazing things about this book and wanted to read it. When I checked eBay, I found this edition for less than the price of the standard edition from a brick and mortar store. Plus, it's signed, has sprayed edges, and is the only UK hardcover version. Hopefully I like the book as well!
Then I picked up Wrath of the Dragon King, Master of the Phantom Isle, and Return of the Dragon Slayers by Brandon Mull. These are books two, three, and five in the Dragonwatch series, which is the sequel series to Fablehaven. I've been wanting to read this series since it was first announced but hadn't gotten around to it yet. I already had the first book (though it's in storage) so I only picked up these ones. The fourth one wouldn't have arrived in time to read during my binge read, though, so I'll just pick that one up in the future when I have shelves again.
The last book I got in March was the Fairyloot edition The Girl Who Fell Beneath the Sea by Axie Oh. I was hoping that they were going to do this book and I'm quite happy that they ended up doing it. This edition has stenciled edges, embossing on the cover, artwork on the endpages, an exclusive cover, and is signed by the author. This edition is beautiful and I'm hoping that this book is as good as I hope it is. Plus, it's a standalone so I don't have the stress of trying to get a matching beautiful edition next year! For a complete look at all the exclusive elements, check out my March Fairyloot unboxing when it goes live here!
Did you see any books you're hoping to read? Let me know in the comments down below!
---
Thanks for reading!
xoxo
Lauren
---
You can follow my bookstagram
here
for more bookish content!
To get more awesome posts like this post, click the follow button to the right!
Get free worldwide shipping with Book Depository using my affiliate
link
---
BOOKS HAULED
1. Daughter of the Moon Goddess by Sue Lynn Tan (Fairyloot)
2. The Weeping Tide by Amanda Foody
3. House of Sky and Breath (UK HC)
4. House of Sky and Breath (intl pb)
5. The Atlas Six (signed Waterstones)
6. Galatea by Madeline Miller
7. Fablehaven: Rise of the Evening Star
8. Poison Study
9. Magic Study
10. Fire Study
11. Gallant (signed Waterstones)
12. A Dark and Hollow Star (signed Illumicrate)
13. Wrath of the Dragon King
14. Master of the Phantom Isle
15. Return of the Dragon Slayers
16. The Girl Who Fell Beneath the Sea (signed Fairyloot)