I know I primarily talk about books here, but I figured it would be nice to mix it up and talk about something else that I'm passionate about: binging TV shows. I grew up in an era of Netflix so I binged a lot of shows when I was younger and had less responsibilities. This means that over the past ten years I've watched a lot of shows and today I'm here to recommend you some of my favorites! Now, this is in no way an expansive list of every TV show that I love, but these are the ones that I've either binged recently or are ones that have stuck with me over the years. Let's just dive in!
The first recommendation that I have for you all is
Hawaii Five-0
. This is a show about Steve McGarrett who's father is murdered so he moves back to Hawaii to solve the case. There, he meets Danny Williams and the two team up together to form a task force with plenty of immunity and means. From then on, pulling in the help of plenty of other wonderful characters, the Five-0 task force sets about to solve cases ranging from kidnapping to murder to terrorism. While the show does deal with a lot of serious topics, it is also one of the funniest shows I've ever seen just because of the pure chemistry and banter between the characters. I think the true testament to how great it is is the fact that I've watched six seasons of this show in the past four weeks. There are currently eight full seasons out with a ninth airing weekly.
Next I'm recommending
The Night Shift
. This show...I started watching it because an actor from one of the other shows I'm recommending today was in it and I was enraptured from the first episode. It's about a group of ex-military and civilian doctors, nurses, etc that work the night shift at a trauma center in Texas. There's plenty of medical action, drama, humor, the works. There are four seasons of this show and it's streaming on Netflix.
Now I'd like to talk about
White Collar
, another crime show that is completely different from Hawaii Five-0. This show is set in New York City and centers around a con-man named Neil who partners up with an FBI agent named Peter to solve art thefts/forgeries/other cons. It's a fascinating show that combines the thrill of watching a crime with the excitement of higher living and humor. It's all finished up now and all six seasons are currently streaming on Hulu.
Up next I have
Brooklyn Nine Nine
. I discovered this show about a year ago and absolutely fell in love. I'm not a sitcom person but this series is one of the best shows I've ever watched. It's about a precinct of cops in Brooklyn, NYC who solve crime, pull pranks, and all around have a great time. It just got renewed for a seventh season and I'm so excited! You can stream all the seasons, including episodes as they release, on Hulu.
Next, I have
Bones
. This show is definitely a commitment at twelve seasons long but I started watching it in May of last year. It took me about six months to finish the entire show but it was so worth it. This show centers around Dr. Temperance Brennan, a forensic anthropologist who leads a group of scientists who work side-by-side with Agent Seeley Booth at the FBI to solve cases that would otherwise be unsolvable. Not only are the cases fascinating but the character relationships and development throughout the series is everything. Not to mention that the humor in this show had me laughing at one am. There are twelve seasons that you can stream on Hulu.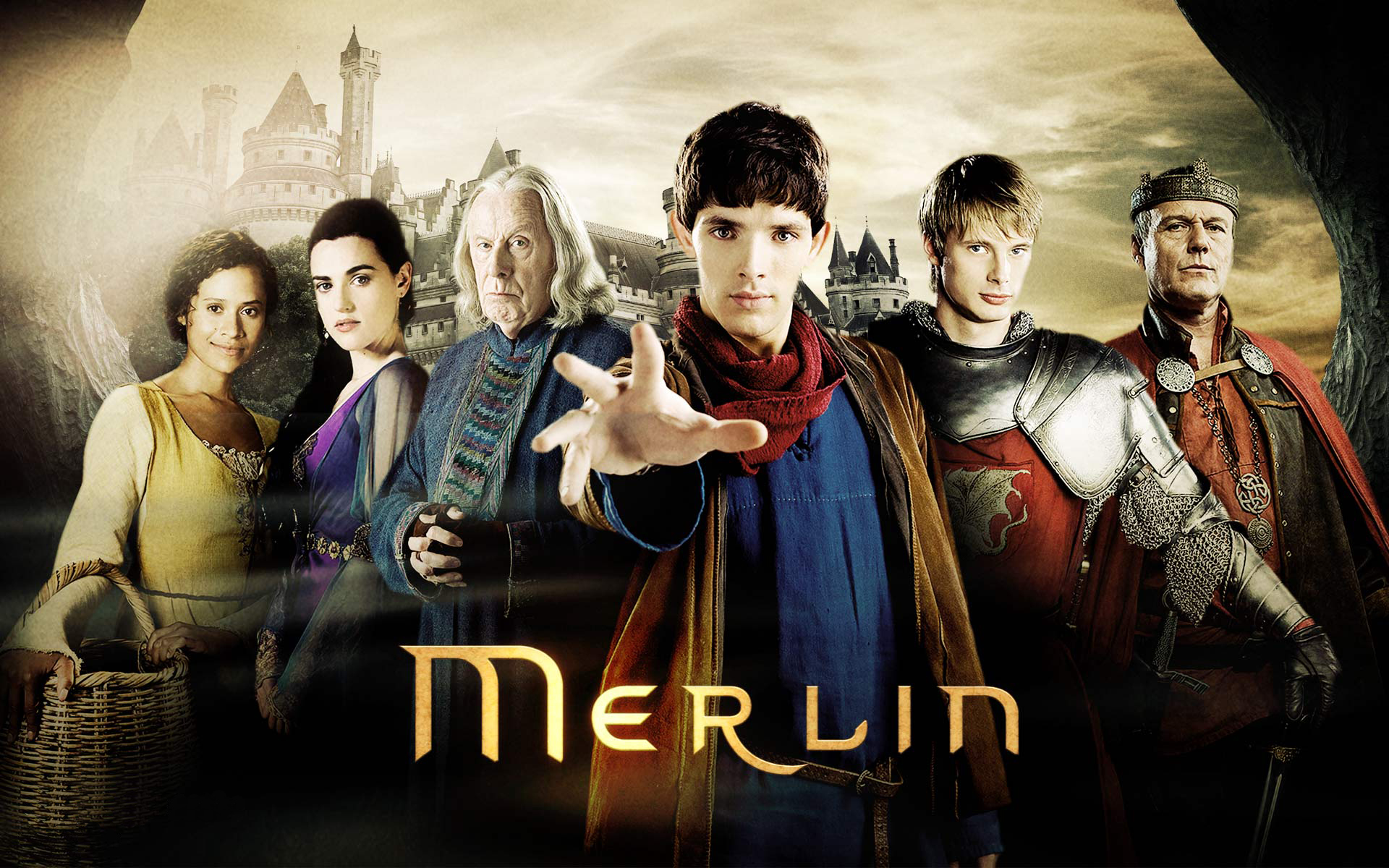 Now I have a show that strays away from crime and into fantasy:
Merlin
. This is a show based around the Arthurian legend where a young warlock named Merlin moves to Camelot and ends up becoming a servant to Prince Arthur. Destiny keeps them together and Merlin secretly protects Arthur with his magic, which is forbidden. This is a show where the world is interesting and the plot is exciting but what really has viewers coming back for more is the character development, relationships, and interactions. You can stream all five seasons either on Netflix or Hulu.
This next recommendation is another crime show that is more funny than serious:
Psych
. This is a show about Shawn Spencer, a man with excellent deduction powers who cons the police into thinking he's a psychic. With his best friend Gus, the two open up a psychic detective agency to solve crime. This is one of my favorite TV shows and brings a lighter tone to more serious topics that could otherwise drain viewers. There are eight seasons, a musical, a movie, and a second movie in production. You can stream the show on Amazon Prime Video.
Lastly, I'm recommending my favorite TV show. It might not be for everyone as it's primarily aimed at teenagers and young adults, but it's a show that I watched from when it first aired to when it had its last episode. It holds a very special place in my heart and that is
Teen Wolf
. This show is all about a teenager names Scott who's dragged into the woods one night by his best friend, Stiles, to search for a body. While there, he gets bitten by a werewolf and turns into one. What I love most about this show is the characters and their relationships but also how each season incorporates more of the supernatural world and lore. There are six seasons that you can stream on Amazon Prime Video.
Well, there you have it folks! A few of my favorite TV shows recommended to you all! I had such a fun time writing this post and getting to revisit memories of watching these shows and these characters. I hope that you'll enjoy these as much as I did!
---
Thanks for reading!
xoxo
Lauren
---
You can follow my bookstagram
here
. A brand new giveaway will be posted soon!
To get more awesome content like this post, click the follow button to the right!
Beacon Book Box: use the code
BOOKSHELF5
for a discount on your order or subscription!
I am a "BookishTextDesign" Influencer! Use my code LAUREN10 for a discount off your bookmark purchases! Check out the shop
here
Get free worldwide shipping with Book Depository using my affiliate
link
---