Hello all! We're about halfway through the year and we've seen a lot of amazing new releases so far. However, some of my most anticipated releases are yet to come! The second half of 2019 looks amazing in terms of new releases and special editions that are coming out so I thought I'd compile a list of some of my most anticipated! These are going to be in order of release and contain books from many different genres and authors, so let's just dive in!
---
July
Up first, there are a couple of releases I'm looking forward to in July. The first of these is Losers Reap Her by H.B. Stumbo. This is the long awaited final book in the Hide and Seek Her trilogy which is one of my favorite trilogies. Not only is this series a great read, but these books also hold a special place in my heart. I've been waiting a few years for the final book and I am so excited that it's finally coming sometime in July! Here is the synopsis for book 1:


Jackson Greene was the dark. If there was a place in the world where all of the light had been sucked out of, Jackson Greene would be what was left standing. Charlotte Lyons had let Jackson Greene take all of the light from her world and after his mysterious disappearance and her near death experience she worries that she will spend the rest of her life trying to find the light again. Enter Vance Wait, the mysterious yet intriguing man who pulls Charlotte from the darkness of the shadows of her past and out of the world she has spent years hiding in. As Charlotte attempts to rebuild her life and learns what it is like to let someone new in, she finds that the things she thought were gone are hiding just out of her line of sight. The lingering thought that she should always look over her shoulder is like a burn that will never fade. Where Jackson is the flame still inflicting the wounds, unbeknownst to Charlotte, Vance is the gasoline used to ignite those flames. Sometimes the things we think we see are mirages, hallucinations even. Our imagination is usually what haunts us more than the actual vision our eyes process. It's the things we don't see, the things that we feel but cannot ever point out that are the real threat in our lives. Seeing isn't believing, believing is seeing and you wouldn't believe the things you miss seeing when you're searching for something else.
~
The second release is Heartstopper, Volume 2 by Alice Oseman. I read the first volume back in May and absolutely fell in love with how cute it was. I am so excited to get my hands on a copy of volume 2 so that I can dive back into these characters and see how things continue on from where they were left at the end of volume 1. Here is the synopsis for volume 1:


Charlie Spring is in Year 10 at Truham Grammar School for Boys. The past year hasn't been too great, but at least he's not being bullied anymore, and he's sort of got a boyfriend, even if he's kind of mean and only wants to meet up in secret.
Nick Nelson is in Year 11 and on the school rugby team. He's heard a little about Charlie - the kid who was outed last year and bullied for a few months - but he's never had the opportunity to talk to him. That is, until the start of January, in which Nick and Charlie are placed in the same form group and made to sit together.
They quickly become friends, and soon Charlie is falling hard for Nick, even though he doesn't think he has a chance. But love works in surprising ways, and sometimes good things are waiting just around the corner...
---
September
Next we have a whole bunch of exciting releases for September. Why is it that all the amazing-sounding books release in 1 of 3 months: May, September, and October? Either way, there are some books that I'm very highly anticipating for the month of September and I can't wait to get my hands on copies of!
The first of these is Darkdawn by Jay Kristoff. This is the third and final book in the Nevernight Chronicles and I'm pretty excited. I've only read the first book but I'm planning a binge of the first to books to prepare for this one's release. There's also a chance I might have the opportunity to meet Jay on tour when I'm studying abroad this fall and that would honestly just be so exciting if I can figure it out. Here's the synopsis for book 1, Nevernight:


In a land where three suns almost never set, a fledgling killer joins a school of assassins, seeking vengeance against the powers who destroyed her family. Daughter of an executed traitor, Mia Corvere is barely able to escape her father's failed rebellion with her life. Alone and friendless, she hides in a city built from the bones of a dead god, hunted by the Senate and her father's former comrades. But her gift for speaking with the shadows leads her to the door of a retired killer, and a future she never imagined. Now, Mia is apprenticed to the deadliest flock of assassins in the entire Republic—the Red Church. If she bests her fellow students in contests of steel, poison and the subtle arts, she'll be inducted among the Blades of the Lady of Blessed Murder, and one step closer to the vengeance she desires. But a killer is loose within the Church's halls, the bloody secrets of Mia's past return to haunt her, and a plot to bring down the entire congregation is unfolding in the shadows she so loves. Will she even survive to initiation, let alone have her revenge?
~
Up next is another September 3rd release:
Serpent & Dove
by Shelby Mahurin. This is a book that I didn't even know anything about until a couple months ago and now I'm so excited about it. I've heard so many amazing things and it sounds wonderfully magical and dark. Additionally, I've been told that if you like ACOMAF, you'll like this book and that's just a big selling point for me. Here's the synopsis:
Bound as one to love, honor, or burn.
Two years ago, Louise le Blanc fled her coven and took shelter in the city of Cesarine, forsaking all magic and living off whatever she could steal. There, witches like Lou are hunted. They are feared. And they are burned. Sworn to the Church as a Chasseur, Reid Diggory has lived his life by one principle: thou shalt not suffer a witch to live. His path was never meant to cross with Lou's, but a wicked stunt forces them into an impossible union—holy matrimony. The war between witches and Church is an ancient one, and Lou's most dangerous enemies bring a fate worse than fire. Unable to ignore her growing feelings, yet powerless to change what she is, a choice must be made.
And love makes fools of us all.
~

Then we have another book on September 3rd that I'm beyond excited for that I didn't know anything about until very recently: There Will Come A Darkness by Katy Rose Pool. After reading the synopsis for this book, I am so excited for its release. It sounds like everything I love about fantasy books all mashed into one. Plus, the cover is absolutely stunning and pre-release reviews have all been super positive! Here's the synopsis:
The Age of Darkness approaches.
Five lives stand in its way.
Who will stop it... or unleash it?
For generations, the Seven Prophets guided humanity. Using their visions of the future, they ended wars and united nations―until the day, one hundred years ago, when the Prophets disappeared. All they left behind was one final, secret prophecy, foretelling an Age of Darkness and the birth of a new Prophet who could be the world's salvation . . . or the cause of its destruction. As chaos takes hold, five souls are set on a collision course:
A prince exiled from his kingdom.
A ruthless killer known as the Pale Hand.
A once-faithful leader torn between his duty and his heart.
A reckless gambler with the power to find anything or anyone.
And a dying girl on the verge of giving up.
One of them―or all of them―could break the world. Will they be savior or destroyer? Perfect for fans of Throne of Glass, Children of Blood and Bone, and An Ember in the Ashes
~
Another September 3rd release I'm looking forward to is
The Girl the Sea Gave Back
by Adrienne Young. This is the companion spin-off novel to
Sky in the Deep
which was one of my books of 2018. It was such an easy book to fall into with amazing characters and a compelling narrative. This companion spin-off follows one of the side-characters from Sky and I'm so excited to get to read their story! Here's the synopsis: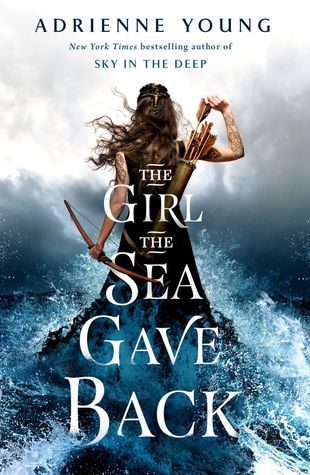 For as long as she can remember, Tova has lived among the Svell, the people who found her washed ashore as a child and use her for her gift as a Truthtongue. Her own home and clan are long-faded memories, but the sacred symbols and staves inked over every inch of her skin mark her as one who can cast the rune stones and see into the future. She has found a fragile place among those who fear her, but when two clans to the east bury their age-old blood feud and join together as one, her world is dangerously close to collapse.
For the first time in generations, the leaders of the Svell are divided. Should they maintain peace or go to war with the allied clans to protect their newfound power? And when their chieftain looks to Tova to cast the stones, she sets into motion a series of events that will not only change the landscape of the mainland forever but will give her something she believed she could never have again—a home.
~
Finally moving on to September 10th, there are a couple releases I'm super excited about. The first of these two is
Capturing the Devil
by Kerri Maniscalco. This is the fourth and final book in the
Stalking Jack the Ripper
series and I'm beyond excited to see how it will end. With the end of
Escaping From Houdini
, I have so many theories and anticipations for this final book. I'm eagerly looking forward to this book being my read on the plane over to London. I've put the synopsis for the first book,
Stalking Jack the Ripper
, down below.
Seventeen-year-old Audrey Rose Wadsworth was born a lord's daughter, with a life of wealth and privilege stretched out before her. But between the social teas and silk dress fittings, she leads a forbidden secret life. Against her stern father's wishes and society's expectations, Audrey often slips away to her uncle's laboratory to study the gruesome practice of forensic medicine. When her work on a string of savagely killed corpses drags Audrey into the investigation of a serial murderer, her search for answers brings her close to her own sheltered world. The story's shocking twists and turns, augmented with real, sinister period photos, will make this dazzling, #1 New York Times bestselling debut from author Kerri Maniscalco impossible to forget.
~
Next we have
Kingdom of Souls
by Rena Barron. This is a book that wasn't even on my radar until a few weeks ago but I'm super excited for it nonetheless! I actually just received an advanced copy of this book from a trade so I may even be able to squeeze this in before it comes out! Anyway, this book is an African-inspired fantasy that I've been told you'll like if you enjoy Black Panther and witch doctors. I am so excited to dive into this story and this cover is a stunning addition to my shelf! Here's the synopsis:
Magic has a price—if you're willing to pay.
Born into a family of powerful witchdoctors, Arrah yearns for magic of her own. But each year she fails to call forth her ancestral powers, while her ambitious mother watches with growing disapproval. There's only one thing Arrah hasn't tried, a deadly last resort: trading years of her own life for scraps of magic. Until the Kingdom's children begin to disappear, and Arrah is desperate to find the culprit. She uncovers something worse. The long-imprisoned Demon King is stirring. And if he rises, his hunger for souls will bring the world to its knees… unless Arrah pays the price for the magic to stop him
~
The final release of September that I'm looking forward to is
Steel Tide
by Natalie C. Parker. This is the sequel to
Seafire
which was one of my favorite reads of 2018. I loved the characters and the world so much. I can't wait to see what happens next and I hope that I'll get my hands on a copy once I get back from studying abroad! Here's the synopsis for book 1,
Seafire
:
After her family is killed by corrupt warlord Aric Athair and his bloodthirsty army of Bullets, Caledonia Styx is left to chart her own course on the dangerous and deadly seas. She captains her ship, the Mors Navis, with a crew of girls and women just like her, who have lost their families and homes because of Aric and his men. The crew has one mission: stay alive, and take down Aric's armed and armored fleet.
But when Caledonia's best friend and second-in-command barely survives an attack thanks to help from a Bullet looking to defect, Caledonia finds herself questioning whether to let him join their crew. Is this boy the key to taking down Aric Athair once and for all . . . or will he threaten everything the women of the Mors Navis have worked for?
---
October
Moving into October, I have seven more books to talk about as well as a bookish related release. The first thing I'm looking forward to releases on October 1st and is
Embers of Memory
, a new card game that is themed around my favorite book series:
Throne of Glass
by Sarah J. Maas. I've been so excited for this ever since it was released and I cannot wait to get my hands on it and start playing!
A lavishly illustrated card game set during the events of Kingdom of Ash, the epic climax to the best-selling Throne of Glass series from Sarah J. Maas, with two players working together over the course of multiple games to overcome the challenges faced by Aelin Galathynius.
[Redacted Spoilers]
Embers of Memory: A Throne of Glass Game is a two-player co-operative card game set during the events of Kingdom of Ash, the epic climax to Sarah J. Maas' Throne of Glass series. Working together, you must delve into the memories of the young queen and help her face her inner demons before she is overwhelmed. Be warned--each challenge you face is more complex than the last, testing the bond between you and your partner to its limit.
~
Up next, also releasing October 1st, is
Supernova
by Kass Morgan. I read an arc of the first book last year and I really enjoyed it. It was a super quick read and the ending had me absolutely shook! I've been highly anticipating finding out what happens next and I'm super excited for this release. Like
Steel
Tide
and many others on this list, I won't be getting a copy on release day as I'll be studying abroad but I'm beyond excited nonetheless for when I finally will. Here's the synopsis for book 1,
Light Years
:
With a galaxy on the brink of war and loyalties divided, the friendship of four Quatra Fleet cadets will be tested as their greatest enemy closes in.
Arrested for espionage, Orelia's future is looking bleak . . . until the Quatrans make her a surprising offer that could save her life -- and the lives of everyone in the galaxy. Reeling from a betrayal, Arran finds comfort in a sympathetic boy from Loos, someone who understands how hard it can be to fit in. But is it enough for Arran to forget his heartbreak? Meanwhile, Cormak's position at the Academy is in jeopardy when someone discovers his own treasonous secret, putting everything he's fought for in peril. And Vesper is on the brink of becoming the superstar officer she always dreamed she'd be . . . until she uncovers a conspiracy that shakes her faith in the Quatra Fleet to its core.
As secret machinations come to light, these cadets will be forced to overcome their differences and band together to restore peace to their worlds.
~
October 8th sees three more releases that I'm really excited about, the first being
The Burning Shadow
by Jennifer L. Armentrout. This is the second book in her
Origin
series--which is a spin-off series to the
Lux
series. I haven't yet read the first book but I am super excited to hopefully read it this summer so that I can continue onto this series! Here's the synopsis for book 1,
The Darkest Star
:
When seventeen-year-old Evie Dasher is caught up in a raid at a notorious club known as one of the few places where humans and the surviving Luxen can mingle freely, she meets Luc, an unnaturally beautiful guy she initially assumes is a Luxen...but he is in fact something much more powerful. Her growing attraction for Luc will lead her deeper and deeper into a world she'd only heard about, a world where everything she thought she knew will be turned on its head...
~
Up next is
The Beautiful
by Reneé Adieh. This has been pitched to me as a vampire murder mystery romance set in historical New Orleans. Everything about that appeals to me and I'm super lucky to have an advanced copy of this book that I'll actually be reading very soon! Here's the synopsis:
New York Times bestselling author Renée Ahdieh returns with a sumptuous, sultry and romantic new series set in 19th century New Orleans where vampires hide in plain sight.
In 1872, New Orleans is a city ruled by the dead. But to seventeen-year-old Celine Rousseau, New Orleans provides her a refuge after she's forced to flee her life as a dressmaker in Paris. Taken in by the sisters of the Ursuline convent along with six other girls, Celine quickly becomes enamored with the vibrant city from the music to the food to the soirées and—especially—to the danger. She soon becomes embroiled in the city's glitzy underworld, known as La Cour des Lions, after catching the eye of the group's leader, the enigmatic Sébastien Saint Germain. When the body of one of the girls from the convent is found in the lair of La Cour des Lions, Celine battles her attraction to him and suspicions about Sébastien's guilt along with the shame of her own horrible secret.
When more bodies are discovered, each crime more gruesome than the last, Celine and New Orleans become gripped by the terror of a serial killer on the loose—one Celine is sure has set her in his sights . . . and who may even be the young man who has stolen her heart. As the murders continue to go unsolved, Celine takes matters into her own hands and soon uncovers something even more shocking: an age-old feud from the darkest creatures of the underworld reveals a truth about Celine she always suspected simmered just beneath the surface.
At once a sultry romance and a thrilling murder mystery, master storyteller Renée Ahdieh embarks on her most potent fantasy series yet: The Beautiful.
~
The last October 8 release that I'm looking forward to is the illustrated edition of
Harry Potter and the Goblet of Fire.
I absolutely love collecting these illustrated editions and this one looks absolutely beautiful. I can't wait for the day when I have a complete set sitting on my shelves to admire and read to my niece when she's older.
~
On October 15th releases one of my most anticipated books and that is the collector's edition of
An Ember in the Ashes
. I'm so excited about this one simply because it's releasing in hardcover with the new covers that match the rest of the series! Not only that, but there will be bonus content, fan art, and they will be signed by Sabaa! I'm just so excited about this release that I can't even contain myself. Here's the description for the collector's edition:

A hardcover, must-have collector's edition of the instant New York Times bestselling An Ember in the Ashes by Sabaa Tahir, signed and hand-stamped by the author and featuring exclusive content, fan art, and more!
This exclusive edition of book one of the Ember Quartet features never-before-seen content including:
-custom fan art drawn by an artist hand-picked by Sabaa Tahir
-redesigned case
-two chapters annotated by Sabaa Tahir
-a letter from Elias
-and more!
Laia is a slave.
Elias is a soldier.
Neither is free.
Under the Martial Empire, defiance is met with death. Laia and her family do not challenge the Empire. They've seen what happens to those who do. But when Laia's brother is arrested for treason, she is forced to make a decision. In exchange for help from rebels who promise to rescue her brother, she will risk her life to spy for them from within the Empire's greatest military academy. There, Laia meets Elias, the school's finest soldier—and secretly, its most unwilling. He and Laia will soon realize that their destinies are intertwined—and that their choices will change the fate of the Empire itself.
~
I also am super excited about
Mooncakes
by Suzanne Walker and illustrated by Wendy Xu which is releasing on October 15 as well. This sounds like a super cute witchy graphic novel that I am beyond excited for. The cover is stunning and I've seen a few sneak peeks at the artwork inside and it has me really excited. Here's the synopsis:
A story of love and demons, family and witchcraft.
Nova Huang knows more about magic than your average teen witch. She works at her grandmothers' bookshop, where she helps them loan out spell books and investigate any supernatural occurrences in their New England town. One fateful night, she follows reports of a white wolf into the woods, and she comes across the unexpected: her childhood crush, Tam Lang, battling a horse demon in the woods. As a werewolf, Tam has been wandering from place to place for years, unable to call any town home. Pursued by dark forces eager to claim the magic of wolves and out of options, Tam turns to Nova for help. Their latent feelings are rekindled against the backdrop of witchcraft, untested magic, occult rituals, and family ties both new and old in this enchanting tale of self-discovery.
~
The last release of October that I'm looking forward to is
The Name of All Things
by Jenn Lyons. This is the sequel to
The Ruin of Kings
which I read earlier this year and enjoyed. I am eager to do a reread of the book so that I can get a deeper understanding and see what I missed before diving into this sequel! Here's the synopsis for book 1,
The Ruin of Kings
:
There are the old stories. And then there's what actually happens.
Kihrin is a bastard orphan who grew up on storybook tales of long-lost princes and grand quests. When he is claimed against his will as the long-lost son of a treasonous prince, Kihrin finds that being a long-lost prince isn't what the storybooks promised. Far from living the dream, Kihrin finds himself practically a prisoner, at the mercy of his new family's power plays and ambitions. He also discovers that the storybooks have lied about a lot of other things things, too: dragons, demons, gods, prophecies, true love, and how the hero always wins.
Then again, maybe he's not the hero, for Kihrin isn't destined to save the empire.
He's destined to destroy it . . .
---
November
In November I have some Sarah J Maas-related releases that I am pumped for. Up first we have the collector's edition of
A Court of Thorns and Roses
. I'm beyond excited for this and I can't wait to see what the collector's edition covers will look like and what bonus content is going to be included! You know my SJM-loving heart is definitely going to be getting herself a copy of both the US and UK editions!
Experience Feyre Archeron's journey all over again with the beautiful collector's edition of A Court of Thorns and Roses, the seductive first book in the #1 New York Times bestselling series by Sarah J. Maas, featuring a deluxe new package, an updated map, ribbon pull, and more!
When nineteen-year-old Feyre kills a wolf in the woods, a beast-like creature arrives to demand retribution for it. Dragged to a treacherous magical land she only knows about from legends, Feyre discovers that her captor is not an animal, but Tamlin-one of the lethal, immortal faeries who once ruled their world.
As she dwells on his estate, her feelings for Tamlin transform from icy hostility into a fiery passion that burns through every lie and warning she's been told about the beautiful, dangerous world of the Fae. But an ancient, wicked shadow over the faerie lands is growing, and Feyre must find a way to stop it or doom Tamlin-and his world-forever.
All of the magic of Feyre's epic journey and romance is reflected in this enchanting, collectible edition of A Court of Thorns and Roses, which comes complete with a cloth slipcase featuring unique foil art on the case and book cover, ribbon pull, brand-new interior page designs, metallic endpapers, and a newly illustrated map.

~
Additionally, on the same day, there is a set of mini editions for the
Throne of Glass
series coming out. All eight books are being published in a miniature book and each will have bonus content focused around a different character. For more information you can find the official release
here
. I am so excited to add these to my collection and I just can't wait to hold them in my hands.
---
Well, there you have it! I am so excited about so many releases during these upcoming months and I just know my collection is going to look even better with all of these beauties on my shelves! I hope you enjoyed this post and maybe even found some new books that you're looking forward too as well!
---
---
Get free worldwide shipping with Book Depository using my affiliate
link
---