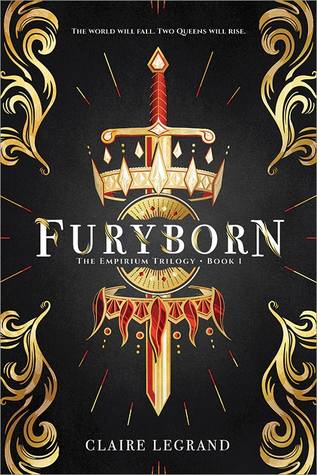 Title: Furyborn
Author: Claire Legrand
Series: "Empirium" #1
Genre: YA High Fantasy
Page Length: 512 pages
Publication Date: May 22, 2018
Date Started: May 12, 2018
Date Finished: May 17, 2018
Rating: 5/5 stars
"Follows two fiercely independent young women, centuries apart, who hold the power to save their world...or doom it.
When assassins ambush her best friend, the crown prince, Rielle Dardenne risks everything to save him, exposing her ability to perform all seven kinds of elemental magic. The only people who should possess this extraordinary power are a pair of prophesied queens: a queen of light and salvation and a queen of blood and destruction. To prove she is the Sun Queen, Rielle must endure seven trials to test her magic. If she fails, she will be executed...unless the trials kill her first.
A thousand years later, the legend of Queen Rielle is a mere fairy tale to bounty hunter Eliana Ferracora. When the Undying Empire conquered her kingdom, she embraced violence to keep her family alive. Now, she believes herself untouchable--until her mother vanishes without a trace, along with countless other women in their city. To find her, Eliana joins a rebel captain on a dangerous mission and discovers that the evil at the heart of the empire is more terrible than she ever imagined.
As Rielle and Eliana fight in a cosmic war that spans millennia, their stories intersect, and the shocking connections between them ultimately determine the fate of their world--and of each other."
*Non-spoiler review*
Holy shit I loved this book. It was phenomenal. I had high hopes going into this book and boy did it not disappoint. It was long and action-packed and I loved it.
If you aren't aware, this book alternates perspectives every chapter. The first perspective is from Rielle in Celdaria and the second is from Eliana, a thousand years later in Orline. I've definitely grown over the years and have started liking multiple-POV books more than I used to and this one was amazing. I always felt connected to the characters and I know that these ones will stay with me for a long time.
Things I Like About This Book:
morally ambiguous characters
the complex side characters that aren't there just to further the mains
the magic and lore
Simon and Audric (be still my beating heart)
the fact that there were cliffhangers almost every chapter
EVERYTHING!
Things I Didn't Like About This Book:
the fact that there wasn't more for me to read immediately?
This book was simply phenomenal. I loved every second of reading it and I never wanted it to end. I swear, the last 150 pages or so were such a fast read for me. I didn't even have time to comprehend that I was near the end before it was over.
Each chapter alternated perspectives so it felt like a cliffhanger at the end of each and I loved that so much. It was a long and action-packed book, but because of my connection to the characters and the cliffhangers that I wanted to know the resolution of, I never felt overwhelmed or bored while reading.
These characters were all flawed in their own ways. I can't wait for book two so that I can see how they all continue living because I just want them all to succeed, even if I know that's probably not possible. I think I connected more with Eliana than I did with Rielle, but I loved both of them nonetheless. I also can't decide if I like Audric or Simon more, but I know I'd definitely take both of them to bed if given the chance.
The magic and lore in this book was just so fun to read. Yes, it was complex, but I felt like I was never confused or in the dark. I'm not going to spoil anything so I'll leave this section by saying this aspect of the book was amazing.
All in all, I loved this book. I can't wait for the next one, which Claire just finished writing a few days/weeks ago. I only hope that arcs are printed soon so that I can try and trade for one because I need to know what happens.
I highly recommend this book and you should definitely read it when it comes out! Who knows...maybe this will be one of the books that I giveaway over on my Instagram in the upcoming weeks?
Follow me
to find out!
Buy Links
Author Links
~~~
Thanks for reading! Stay tuned for my Fierce Reads Tour Experience + a new book tag and more!
xoxo
Lauren