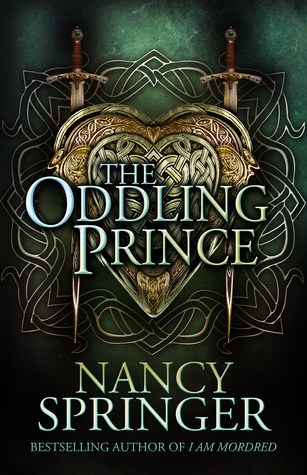 Title: The Oddling Prince
Author: Nancy Springer
Genre: Fantasy
Page Length: 288 pages
Publication Date: May 1, 2018
Date Started: April 20, 2018
Date Finished: April 25, 2018
Rating: 1/5 stars
*I was sent an e-arc of this book in exchange for my honest review*
I really wanted to like this book. I really truly did. It just wasn't happening for me. I was so excited when I got the notification from Netgalley that I was going to be able to read it but I was very disappointed. I DNF'ed this book at about 40% because I had no desire to read it and I had other things to read.
I thought that a lot of things happened too easily or quickly. The pacing felt wrong, the characters felt flat, and I just didn't care at all about what happened. I wish that I could say that I connected to this story, but I didn't. There were plenty of info dumps for things I didn't really need to know but there wasn't enough explanation for things that needed it.
Maybe this is a book that a lot of other people love, but I could not get past these things and enjoy it at all. That's really all I can say on this book: I just didn't enjoy it at all.
~~~
Thanks for reading! I'll catch you guys next time!
xoxo
Lauren
~~~
Follow this blog by clicking "Follow" on the right hand column! Add me to your Google+ Circles on the left hand column! New content every month from Reviews to Hauls to Tags! Don't forget to check out all the other parts of this blog by following the different links at the top of the page!
Follow my Instagram
here
. Giveaway at 1k followers!
Get 10% off of
HD Movie Codes
(sponsored by Movies Anywhere) when you use "INFLUENCER" at checkout! *I do not receive commission from HD Movie Codes--I just want to save you some $*
Get 10% off your first order, plus 50 rewards points, when you use this link to purchase a personal aromatherapy diffuser from
Monq
Get free worldwide shipping with Book Depository using my affiliate
link
~~~