Well, March was a sub-par reading month. I didn't read any new books (only rereads) and I only read 3 books total. I am pretty disappointed in myself, but this just gives me motivation for April to be a better reading month! Apart from my reading, this month was pretty good. Let's go ahead and jump in!

BOOKS READ
1.
Title: Academy of Assassins
Author: Stacey Brutger
Rating: 4/5 stars
This was really fun to reread. I read this book a while back and found myself really liking it. So randomly one night at 1 am instead of me going to bed like a responsible person, I channeled my inner college student and started rereading this. It was real fun and made me even more excited for the next book to come out!
2.
Title:
Illuminae
Author: Amie Kaufman & Jay Kristoff
Rating: 5/5 stars
Review:
http://laurensboookshelf.blogspot.com/2016/01/lets-talk-illuminae.html
I audiobooked this for my reread and it was phenomenal. I'm so glad that I took the plunge and got these audiobooks because they are just so well put together and performed. I can't wait to continue on with my reread (relisten?) of the series!
3.
Title: Caraval
Author: Stephanie Garber
Rating: 5/5 stars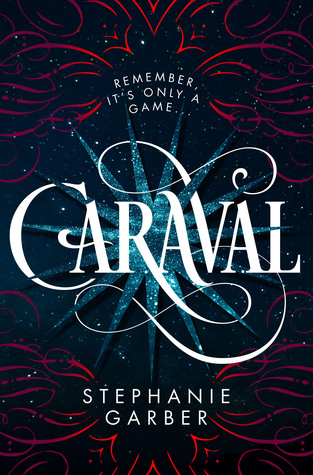 I really enjoyed this reread and I'm so happy that I actually did it. It had been over a year since I read this book and I knew that I wanted to reread it before I read the sequel. There had been a lot that I'd forgotten about over this past year and I was happy to refresh my memory. Something I do want to say, however, is that a lot of the magic of this book lies in not knowing what is going to happen. I wish that I could read this book for the first time without the knowledge that I have, because the first time I read this book it made me absolutely bawl. Because of that, I have high hopes for the sequel!
BLOG POSTS
TV/MOVIES
I finished rewatching Season 2 of The Vampire Diaries at the beginning of March. I loved it and I'm excited to continue on, but I'm currently watching a different TV series that I'm going to go ahead and use as my excuse for my shitty reading month.

I also watched the new Power Rangers over spring break. It was pretty good and I enjoyed a more serious PR as I always wished the show, while awesome and fun, was a more mature. It's probably because I was watching it when I was 15 instead of 8, but still.

I also discovered Brooklyn Nine-Nine this month and fell in love. I watched the first three seasons in the span of 3 weeks and am currently halfway through the fourth. I have to say that I could have been reading whenever I was watching this show, and I fully blame this beautifully humorous show for the downfall of my reading month.

I also saw The Greatest Showman finally. I loved it and I can only imagine how epic is was on the big screen instead of on my tiny laptop with 5-year old headphones. I've also been listening to nothing but the soundtrack since I've seen it. I love it.
NOTABLES
There were a few notable things that happened in March. First, I had a choir concert that went pretty well. I also went home for spring break and got to see a lot of my friends and family. I spent a lot of time with my niece and it only broke my heart a lot when I had to leave (she started bawling when I closed the door to leave and just stood at the window crying as we drove away).
I got sick the day after spring break and I'm still trying to recover from it two weeks later. It was a viral infection that first affected my throat. My throat finally stopped hurting after a week but then I moved onto coughing and sneezing, which I'm still stuck with. Also, I'm now all stuffed up and congested. My ears are plugged and my nose is stuffed and I can't breathe through it unless I'm sitting up. But it's fine.
I also plotted out my first real attempt at a novel. I've participated in NaNoWriMo before and even won it as well as started countless stories that I've abandoned after 15,000 words, but I'm super determined with this one. I wrote out the entire plot to the entire novel and divided it into chapters and I'm thrilled to say that I've started writing. Currently, my estimation on length is going to be 400-500 pages *insert nervous laughing emoji here*
Also, I just finished the layout of my website for Intro to Web Programming, so if you want to check that out, here's the
link
! I built it all from scratch with HTML and CSS coding. It took me probably 6 or more hours total to put together all that I've learned this semester so far and built this website. It's all about writing. How to write, what to write, why writing, and even a sample of some of my writing! I don't have much posted there in terms of content but the layout and style of the page is something I'm super proud of. You can also leave a comment on this post of things you'd possibly like to see!
~~~
Well, that is it for my month of March! I hope you all had a great month and here's to an even better April! I have big blog plans for this upcoming month and I can't wait for you all to see them!
xoxo
Lauren
~~~
Follow this blog by clicking "Follow" on the right hand column! Add me to your Google+ Circles on the left hand column! New content every month from Reviews to Hauls to Tags! Don't forget to check out all the other parts of this blog by following the different links at the top of the page!
Follow my Instagram
here
. Giveaway at 1k followers!
Get 10% off of
HD Movie Codes
(sponsored by Movies Anywhere) when you use "INFLUENCER" at checkout! *I do not receive commission from HD Movie Codes--I just want to save you some $*
Get 10% off your first order, plus 50 rewards points, when you use this link to purchase a personal aromatherapy diffuser from
Monq
Get free worldwide shipping with Book Depository using my affiliate
link
~~~