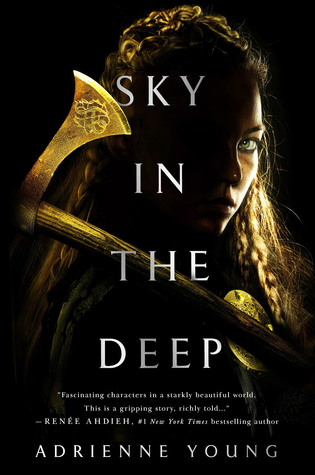 Title: Sky in the Deep
Author: Adrienne Young
Genre: YA High Fantasy
Page Length: 352 pages
Publication Date: April 24, 2018
Date Started: April 6, 2018
Date Finished: April 6, 2018
Rating: 4.5/5 stars
15 Thoughts While Reading Sky in the Deep
OND ELDR. BREATHE FIRE.
Raised to be a warrior, seventeen-year-old Eelyn fights alongside her Aska clansmen in an ancient rivalry against the Riki clan. Her life is brutal but simple: fight and survive. Until the day she sees the impossible on the battlefield—her brother, fighting with the enemy—the brother she watched die five years ago.
Faced with her brother's betrayal, she must survive the winter in the mountains with the Riki, in a village where every neighbor is an enemy, every battle scar possibly one she delivered. But when the Riki village is raided by a ruthless clan thought to be a legend, Eelyn is even more desperate to get back to her beloved family.
She is given no choice but to trust Fiske, her brother's friend, who sees her as a threat. They must do the impossible: unite the clans to fight together, or risk being slaughtered one by one. Driven by a love for her clan and her growing love for Fiske, Eelyn must confront her own definition of loyalty and family while daring to put her faith in the people she's spent her life hating
*Non-spoiler review*
I really enjoyed this book. I had such high hopes and expectations going into it and I'm so glad it lived up to them. I loved it. There are a few reasons why, which I'll get to in a minute. First and foremost, I want to thank the beautiful human on Twitter who traded arcs with me so that I could get my hands on this one and read it before it released. I don't think I'll ever get over having this so early.
This book was awesome. It started off with a high-intensity battle and just kept going from there. Like all good books do, the tension and intensity rose and fell throughout the novel so that we were never bored or too overwhelmed. I thought the pacing was excellent and I can only say that I wish it was longer.
The characters were awesome. I think the main character, Eelyn, is my favorite for many reasons. I don't want to talk much about the other characters because it might spoil how different things turn out, but I loved so many of them and hated some. I thought they all worked very well as characters and I only wish we had more books after this one to explore the relationships between all of them. It was amazing watching the different characters grow and mature. Plus, Eelyn is such a badass and I only wish I could be as strong as her.
The plot was fantastic. I actually was surprised by how the plot went and I really am glad with how everything happened in this book. I think that it was very realistic in this world. It wasn't super complex, but I think that was a reason I enjoyed it so much and flew through. There was just enough plot and subplot for me to enjoy it, but it didn't overwhelm me with details and too many overlapping storylines. The writing style was simplistic, yet complicated enough for it to not be boring. It was smooth reading, through and through.
I think this book was very unique as a YA fantasy standalone as we usually only get series. I do want more books, but I am happy with how this story wrapped up. I can already tell that I'll be rereading this a little after it releases because I enjoyed it so much. Overall, I just really loved this book and can't wait for my signed copy to come in the mail via Good Choice Reading.
Pre-Order Links
Amazon
Barnes & Noble
Books-A-Million
Book Depository
Adrienne Young Information
Website
Goodreads
Instagram
Twitter
~~~
Thanks for reading!
xoxo
Lauren
~~~
Follow this blog by clicking "Follow" on the right hand column! Add me to your Google+ Circles on the left hand column! New content every month from Reviews to Hauls to Tags! Don't forget to check out all the other parts of this blog by following the different links at the top of the page!
Follow my Instagram
here
. Giveaway at 1k followers!
Get 10% off of
HD Movie Codes
(sponsored by Movies Anywhere) when you use "INFLUENCER" at checkout! *I do not receive commission from HD Movie Codes--I just want to save you some $*
Get 10% off your first order, plus 50 rewards points, when you use this link to purchase a personal aromatherapy diffuser from
Monq
Get free worldwide shipping with Book Depository using my affiliate
link
.
~~~