Hello all! I am so excited to share my July wrap-up with you! Now, I have mixed feelings about July...I only read 4 books, but I watched a bunch of tv seasons and movies. And considering last summer, I only read 4 books in the months of June and July combined, I'm feeling pretty happy about the number of books I read this month.

Take into account that I've been working almost daily and babysitting and preparing to go back to college, I'm feeling really successful. Especially since I finished a 400+ page book on the first day of August as I write this. Hopefully I'll be able to reach my reading goal by the end of the year, but I'm a little behind. Either way, let's get into my wrap-up for the month of July!


---
BOOKS READ
1.
Title: Red Agenda
Author: Cameron Poe
Rating: 1/5 stars
2.
Title:
Obsidio
Authors: Amie Kaufman & Jay Kristoff
Rating: 5/5 stars
Review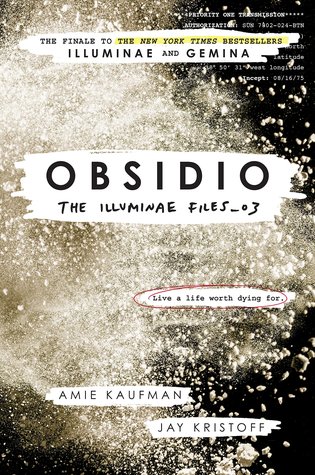 3.
Title:
Strength
Authors: Jaymin Eve & Jane Washington
Rating: 5/5 stars
Review
4.
Title:
Terror is Our Business: Dana Roberts' Casebook of Horrors
Authors: Joe R. Lansdale & Kasey Lansdale
Rating: 3/5 stars
Review
---
BLOG POSTS
---
TV/MOVIES
Somehow I managed to watch seasons 4, 5, 6, and 7 of Bones all this month. I'm hardcore trucking through this binge-watch, although I've been slowing down the past week or so. I know I'm nearing the final few seasons and I don't want it to end! These seasons have been amazing and I just know that when I rewatch it eventually, there will be plenty of material for me to occupy myself with!
I also rewatched all three Shia Leboeuf
Transformer's
movies. I love these movies, even though I haven't seen the ones after Shia, and I really enjoyed rewatching them with my family. I'm even seriously considering continuing onto the others in the series.
---
Thanks so much for reading! Stay tuned for a bunch of amazing posts this month...I have big plans!
xoxo
Lauren
---
Follow my Instagram
here
. New giveaway will be posted very soon!
Get 10% off your first order, plus 50 rewards points, when you use this link to purchase a personal aromatherapy diffuser from
Monq
Get free worldwide shipping with Book Depository using my affiliate
link